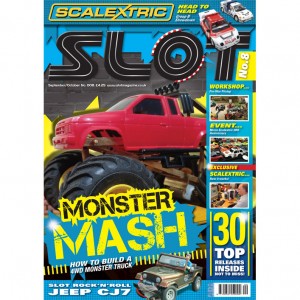 Issue 8Â contents:
REGULARS
4 NEWS
What is happening in the SLOT magazine world. News,
announcements, and interesting slot gossip.
6 PITLANE NEW PRODUCTS
See the new cars that are in the shops since the last issue of SLOT magazine.
12 CLUB FOCUS
NERCS is a club that relishes older cars and restores the slot models as well as the real thing.
16 READER'S DRIVES
It is not often that a car is good enough to be voted a Concours winner and then thrash the opposition on the track. Roy Pritchards built a Lotus 30 that beat everyone into submission.
22 HEAD TO HEAD
We go rallying with a pair of Group B cars, comparing 2WD with 4WD and seeing which is best on stage or track.
63 SLOT DIRECTORY
Find the retailers and specialist services you need for all your slot racing shopping.
64 SLOT CALENDAR
If you want to race or have a look around a Swapmeet, there is probably an event you won't want to miss. Send your event details if you want to be included.
66 FINISH LINE
Richard Hills shares his thoughts and experiences on a range of slot topics. If you thought 4WD was new, Richard can prove you wrong.
FEATURES
14 TYRE WALLS AND BARRIERS
There is more to track edges than Armco barriers, how about rumble strips, tyre walls, and safety net
barriers?
34 SLOT.IT 4WD AUDI R18
The development went public when Slot.it entered the 4WD prototype in a 24 Hours race. Maurizio Ferrari
describes the challenge.
38 VINTAGE PIT SCENE
Back in the 1920s the pits were erected on the day of the race, a far cry from current technology and hospitality. Peter McKercher decided older is better.
EXCLUSIVE
44 HOW SCALEXTRIC PRODUCE SLOT CARS – PART 1
Going behind the scenes with a major manufacturer is a journey into technology, big business, and a little
bit of magic. We look at how the process starts.
50 MICRO SCALEXTRIC 20TH BIRTHDAY PARTY
Yes, those little cars have been around that long, and had a party and cake to prove it.
54 THE DARK SIDE
Speed vs Detail ? Ian Howard donned his black cape and stepped into the abyss to find out the differences.
WORKSHOPS
18 CHASE-CARS JEEP CJ7
If you want a car that steers, rolls, and only needs a soundtrack from any TV chase scene, you want a Chase-Car. Pete Simpson shows how to build a fun kit.
30 WOODEN RACETRACK – PART 1
It all starts with the design, so if you want a new club track or something unique for home then start planning here.
ON THE COVER
58 MONSTER TRUCK
Dave Stevens shows how to build your own Monster Truck and climb obstacles other cars can't reach.
RACE REPORTS & CLUB NEWS
26 ITALIAN RETRO
Celebrating 25 years of racing classic slot cars, it's not all Ferraris although there is a strong tinge of red.
48 MSRA SLOT STOX FINALS
Hard knocks are part of the fun as whole families gather to decide this years champions.
56 NSCC REPORT
OK so it isn't an event report this time, but the NSCC have an interesting story about their special cars for you.