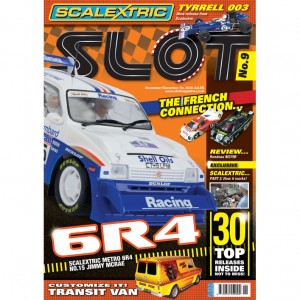 Issue 9Â contents:
4 NEWS
What is happening in the SLOT magazine world. News, announcements, and interesting slot gossip.
6 PITLANE NEW PRODUCTS
See the new cars that are in the shops since the last issue of SLOT magazine.
8 COMPETITION PAGE
We have 2 free competitions for you to enter in this issue. Are we spoiling you?
20 PAST FORWARD
We have a French flavour this time as we look back at Circuit 24 from the 1960s. Noisy or not?
40 CLUB FOCUS
South Lincs club has opened with a new 100ft long 5-lane track and welcomes visitors.
59 SLOT DIRECTORY
Find the retailers and specialist services you need for all your slot racing shopping.
65 SLOT CALENDAR
If you want to race or have a look around a Swapmeet, there is probably an event you won't want to miss. Send your event details if you want to be included.
66 FINISH LINE
Richard Hills shares his thoughts and experiences on a range of slot topics. What has he found out about British miniature engineering?
FEATURES
ON THE COVER
24 LMM RONDEAU
The French Le Mans winner and its sisters have a chassis upgrade to help the new highly detailed slot car from Le Mans Miniatures.
EXCLUSIVE
44 HOW SCALEXTRIC PRODUCE SLOT
CARS – PART 2
Going behind the scenes with a major manufacturer is a journey into technology, big business, and a
little bit of magic. The cars get to the production line and emerge highly decorated.
42 NSCC CLUB CARS – PART 2
If you are collecting the NSCC Club cars you need to know which ones to look for. Jeremy Naylor continues the story.
EXCLUSIVE
48 MG METRO 6R4 – REAL AND SLOT VERSIONS
Joe Brown went to Prodrive to compare the Scalextric Metro 6R4 to the real thing. Which one did he bring back ?
WORKSHOPS
16 PAINT A CUSTOM VAN
Airbrush expert Martin De'Ath is a fan of custom vans of all sizes and produces a slot version of the Ford Transit.
44 MAINTAINING MICRO SCALEXTRIC
They may be small but they are fast and need the same attention as the bigger cars. Andy Player advises with tips and advice.
54 TUNING THE SCALEXTRIC METRO 6R4 FOR SRGB
Slot Rally GB competitor Chris Angold has been improving the Scalextric MG Metro 6R4 and shows you how to get faster stage times.
60 RAT ROD CUSTOM CONVERSION
Tony Davey with another 'off the wall' conversion. If you want the unusual it's right here !
62 GUIDES & BRAIDS WORKSHOP
The vital connection between the car and track, you need to know how to make sure it won't spoil your
performance.
RACE REPORTS & CLUB NEWS
28 PINEWOOD AFX 6 HOURS
Driving something the size of a matchbox at high speed for 6 hours is a challenge for youngsters from 7 to 70 – and they all enjoyed it.