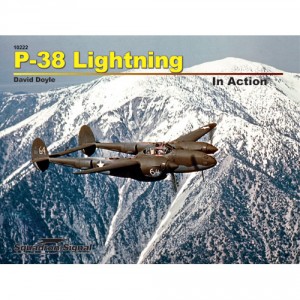 Now re-available after reprinting.
The book traces the development and combat history of the twin-engine, twin-boom, Lockheed P-38 Lightning from the first flight of the XP-38 in January1939 through a succession of models, ending with the electronic-laden, two-seat P-38M. Created on the drawing boards of two of America's most notable aircraft designers – Hall Hibbard and Clarence 'Kelly' Johnson – the P-38 Lightning was the only U.S. pursuit plane to remain in continuous production throughout WWII. In the Southwestern Pacific, the P-38 served as the U.S.Army Air Force's primary long-range fighter prior to the arrival of the P-51D Mustang. Top American air aces and Medal-of-Honor winners Richard Bong and Thomas McGuire both flew Lightning's, and it was a P-38 that brought down Japanese Admiral Isoroku Yamamoto's plane in April 1943. The Lightning saw service in Europe too, and it was after flying a P-38 to assess the progress of the Normandy Invasion in 1944, that U.S. Lt. Gen. Jimmy Doolittle referred to the Lightning as "the sweetest-flying plane in the sky." Illustrated with more than 150 period photographs, a third of them rare original colour photos, plus colour profiles and detailed line drawings.
ISBN: 978-0-89747-849-6.