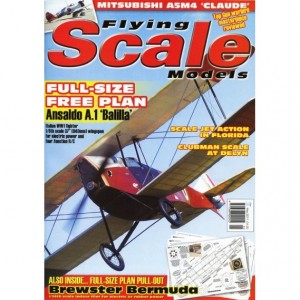 Issue 138
Buy Lines
Product news
Florida Jets
The very best of international scale jet action at Lakeland, Florida, March 3-6th
Full-Size FREE Plan Feature
Ansaldo A.1 Balilla
A 37" wingspan electric powered scale model designed by Peter Rake, built and described by Pat Lynch
Brewster Bermuda
Open Rubber Winner, UK Indoor Nationals 09
1/24th Scale indoor scale flier for electric or rubber power designed by Richard Crossley.
Biter Bit!
Alex Whittaker gets roped into organising a simple scale competition for the Delyn M.F.C
Less than Zero!
Mitsubishi A5M4 'Claude'
Another unusual own design model from Warbirds over the Rockies scale event 2010 reviewed by Simon Delaney.
Scale Soaring
The anatomy of a cerrrrashhh… and the quest for an 'unbreakable' scale R/C sailplane
The Quiet Zone
Small-scale treasures from Greece, and news of an Albatros DVa waiting in the wings…
Techno Scale
Mike Evatt surfs cyberspace for more TechnoScale Topics