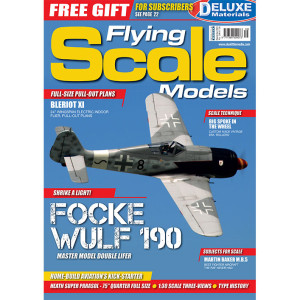 6 HEATH SUPER PARASOL
75" (1905mm) wingspan, quarter full size
replica of the American homebuilt aircraft for
land or waterplane operation. Suits .60 fourstroke
engines and four function radio
10 HEATH PARASOL
SCALE DRAWING
Fine detail three-views of the late LNB-4
variant in 1:30 scale
16 MISTER HEATH AND
HIS PARASOLS
History of the man credited with kick-starting
the 'homebuilt' aircraft movement and the
aircraft he designed
24 WINGS ACROSS LA MANCHE!
INDOOR BLERIOT XI
24" wingspan for electric power, with KP
Aero's KP00 motor, designed by JOHN
RALPH. Full size pullout plan feature
30 BIG SPOKE IN THE WHEEL
No commercially available wire spoked wheels
for your size of vintage era model? Ken
Sheppard shows how to make your own
34 MASTER MODELS
BIG BUTCHER BIRD
The late Ray Anderson's superb third-of-a-century-
old Focke-Wulf Fw190A
42 SUBJECTS FOR SCALE
MARTIN BAKER M.B.5
Regarded as the most potent piston engine
fighter aircraft that the Royal Air Force never
had, its timing, protracted development and
the dawn of the jet age combined, in the end,
to consign this pinnacle of propeller aircraft
performance quite literally to ashes
48 M.B.5 SCALE DRAWING
1:60 scale thee-views.