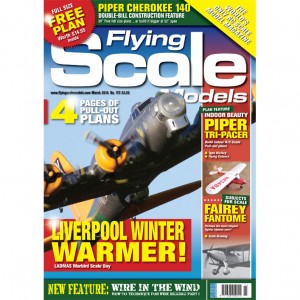 March 2014 Â No.172
6 CONTACT
Just for openers
10 LADMAS WARBIRDS
Liverpool D.M.A./Northwest Warbirds combined scale event.
16 TECHNO SCALE
Scale web sites reviewed
FULLSIZE FREE PLAN feature
18 PIPER CHEROKEE 140
A double-bill feature, with full size free plans for a 39" wingspan model for .15 cu.in. size engine, with the option of a larger 52" wingspan version for .30 -.35 power, available through FSM Plans Service. Cut parts sets are available for both model sizes.
24 PIPER CHEROKEE SCALE DRAWING
1:60 Fine-line three-views for the Cherokee 140Â and Cherokee Arrow
28 TRI-PACER TYPE HISTORY
The 'Short Wing' Pipers; a brief history of the post-WW2 types that spawned the PA-22 Trip-Pacer
30 TRI-PACER MODEL
Richard Crossley presents his Indoor 1/17th scale design for R/C or free flight.. Full size pull-out plans
40 TRI-PACER FLYING COLOURS
Colour schemes galore – take your pick
42 SUBJECTs FOR SCALE: FAIREY FANTOME
For purity and elegance of shape, the Fairey Fantome could be regarded and the most attractive biplane fighter of all time
46 FAIREY FANTONE SCALE DRAWING
1:40 scale three-views
48 WIRE IN THE WIND
Gary Sunderland presents detailed advice on authentic replication of bracing and rigging. PART 1.
58 SCALE SOARING
Chris Williams heralds his conversion to electric power for motor gliders and reveals his new Fournier RF-5b
62 THE QUIET ZONE
Peter Rake concludes the construction of his 17.5"(445mm) span indoor-scale White Monoplane from the full-size pull-out plans that appeared last month.