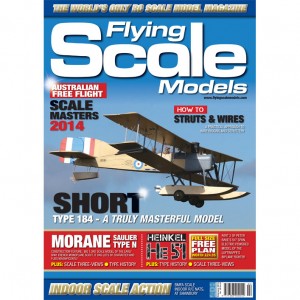 FEBRUARYÂ 2015 No.183
CONTACT
Just for starters
FULL SIZE FREE PLAN FEATURE
HEINKEL He 51 PART 2
54" span, electric powered, model designed by Peter Rake
HEINKEL He 51 TYPE HISTORY
The Luftwaffe's first fighter
HEINKEL He 51 SCALE DRAWING
1:40 fine-line three-views
SHAWBURY INDOOR SCALE
BMFA Scale Indoor RC Nats, RAF Shawbury 2014. Alex Whittaker attends this innovative Indoor Scale event
QUIET ZONE
Peter Rake offers more indoor scale electric fun with a Deprop profile Sopwith Triplane
MORANE saulnier type n
John Marriage created this big 1/3rd scale model of the early WW1 French monoplane scout. It has lots of character and flies magnificently
MORANE TYPE HISTORY
One of the fires true fighter types of WW1, it was fast and looked very racy, but it was tricky to fly
MORANE SCALE DRAWING
1:40 fine-line three view drawings
Master Models: SHORT TYPE 184
The Short 184 was the only British aircraft present at the infamous Battle of Jutland. Alex Whittaker reviews Dennis Richardson's fascinating 1/8th scale model
STRUTS AND WIRES
Some practical advice from Dr. Mike Hawkins F.R Ae.S.
TECHNO SCALE
More scale orientated web sites to surf
Australian free flight SCALE
The Ausie Free Flight Masters 2014 – Gary D Sunderland reports.