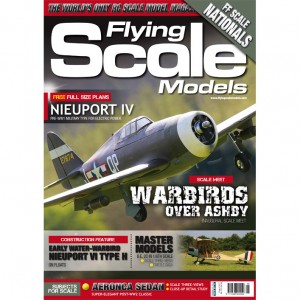 AUGUST 2017 NO.213
4 CONTACT
Just for starters
6 BMFA Free flight scale NATS
Tom Daly takes his camera to this prime outdoor scale bash
12 full size free plan
NIEUPORT IV
A 30″ span, park flyer size electric powered model of a pioneer
Nieuport aircraft designed by Peter Rake
16 NIEUPORT VI type h
Dr.Mike Hawkins created this 1/6th scale replica of an early
floatplane, for three-channel R/C and .90 to 1.20-size engines.
Even though it's a floatplane, you don't need a lake for take-off!
24 SCALE SOARING
Chris Williams, this month mainly hill soaring
30 SUBJECT FOR SCALE
aeronca 15AC sedan
A perfect scale modelling challenge to those who prefer
classic, curvaceous light aircraft
34 AERONCA SCALE DRAWING
1:40 finr-line three views
36 sedan IN DETAIL
Close photo study reveals surface detail
40 A CLASSIC SEDAN model
The Mercury Models kit design revived, with plans and
laser-cut parts
42 MASTER MODELS
royal aircraft factory BE2C
Alex Whittaker admires a fine model of an early Geoffrey
De Havilland design
48 BE2C SCALE DRAWING
1:50 detailed three-views
50 BE2C TYPE HISTORY
Britain's first purpose-designed military combat aircraft
56 WARBIRDS over ashby
Alex Whittaker takes his camera to this inaugural military
aircraft meeting
62 the QUIET ZONE
Peter Rake offers some accumulated wisdom on airframe
construction, all acquired via the cut-and-try method!