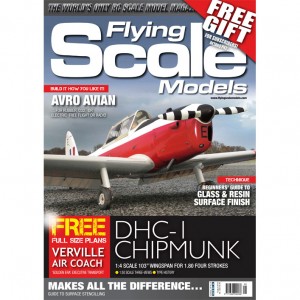 4 CONTACT
Just for starters
6 DHC-1 CHIPMUNK
Dave Womersely's 1/4 scale super-scale model for 1.80 size
four stroke engines
12 CHIPMUNK SCALE DRAWING
1:50 fine detail three-views
14 CHIPMUNK TYPE HISTORY
The more-than-worthy Tiger Moth replacement! Twenty three
military air services used it
22 KENT ON CONSTRUCTION
Part 1: Long-time Scale ace Phil Kent shares the building
techniques he has developed over a modelling lifetime.
30 Australian odessY – Avro AVIAN
A classic 1:20 scale biplane minitiature for Co2, or rubber free
flight, electric indoor R/C – or scale it up to suit yourself…
40 Avro AVIAN TYPE HISTORY
Eclipsed, at least in numerical terms, by the contemporary DH
60 Moth, the Avro Avian was a conveyance-of-choice among
adventourous aviators for ground-breaking long distance
achievements
48 Beginners guide to GLASS CLOTH
surface finish
Andy Ward bites the bullet and is rewarded with a super finish at
his first serious attempt at this finishing technique
54 full size free plan feature
VERVILLE AIR COACH
A 40″ span, electric powered 'Golden Age' model
designed by Peter Rake
58 VERVILLE AIR COACH TYPE HISTORY
For it's day, the Air Coach might fairly be regarded as a 1920-
1930s equivalent of the modern-day executive jet
62 the final touch
aircraft surface stencilling
Virtually all full-size aircraft carry some surface skin and
maintenance instructions for ground crew. The more complicated
the aircraft, the greater the number of instructiona; annotations.
Military types seem to carry the most!