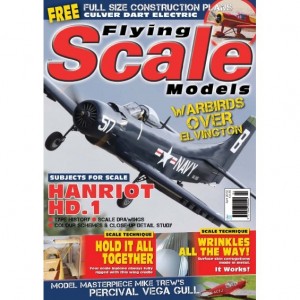 Issue 149
CONTACT
Scale model news
PERCIVAL VEGA GULL
Just occasionally, a scale model comes along that defies superlatives. Mike Trew's Vega Gull is certainly one of those, here presented in this feature compiled and presented by Simon Delaney
ELVINGTON 2011
Whittaker takes his camera to the LMA's new version of the Elvington Show
WING CRADLE
Here's a little idea that some of you who are heavily into early aviation and biplane scale models might like consider as an aid to assembly at the flying field
SUBJECTS FOR SCALE HANRIOT HD.1
One of the lesser known allied fighters of WW1, but which has strong appeal to modellers due to its pleasing appearance and uncomplicated shape.
HANRIOT HD.1 SCALE DRAWING
1:40 fine-line three views
HANRIOT HD.1 FLYING COLOURS
Warpaint schemes in Belgian and Italian service
HANRIOT HD.1 IN DETAIL
A close-up study of the Hanriot H.D.1 on display in the R.A.F Museum, Hendon's Graham White Hangar annex. With much thanks for their kind co-operation.
FULL-SIZE FREE PLAN – CULVER DART
PART 1: An electric powered scale model designed by Peter Rake, with the prototype model built and described by Marion Crowder
EXPERIMENTS WITH CORRUGATED SKINS
Corrugated surface skins are a major challenge for scale modellers and many have been the techniques adopted to circumvent the problem. Martin Simons met it head-on!
THE QUIET ZONE
The Scale electric scene
TECHNO SCALE
Mike Evatt searches cyberspace for more TechnoScale Topics