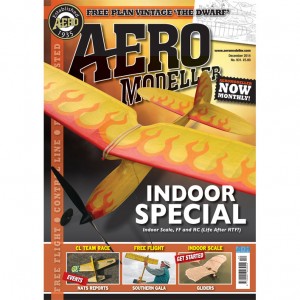 AeroModeller issue 013 (931) December 2014 (Published November 20th)
Heard at the Hangar Doors
Editorial and News from across the Globe
Up and Coming
Calendar of Events for the next months
Off the Shelf
A look at new and innovative products.
Small Indoor RC
The Veron and Keil Kraft Flying Scale Kits are given a new lease of life by John and Mike Watters.
Cover to Cover
Andrew Boddington reviews the books which could be popular with aeromodellers this Christmas.
Flappers and Folders
The advances in variable geometry wings for power and rubber duration. By Mike Evatt.
British Power Nationals
● CL Team Race at the Nats – Malcolm Ross
● Mini Goodyear – Tim Andrews
Aero Post
Readers' letters by post and email.
Have a go at Indoor Scale
Richard Crossley explains his approach to the indoor open scale classes.
Southern FF Gala
Dave Hipperson reports from this prestigious FF duration event.
FREE PLAN – The Dwarf for FF or eRC
Dave Hilliard's vintage design from 1949 is revisited – suitable for small diesel, CO2 or electric.
Shawbury Indoor Scale
The BMFA Indoor RC Scale Nats had FF as well. Ken Sheppard reports.
Indoor Duration
Tony Hebb tries out a new venue in Bristol for lightweight Indoor Duration.
Replacing and Updating
Rechargeable Batteries Part 2: Shaun Garrity looks at the flight pack options.
The 45th FF International, Eifel Pokal
Mike Evatt reports from this FAI FF World Cup Competition.
Hobbyking Pulse Jet Update
Dick Hart shares some more of his experience with this modern pulse jet.
Peterborough Flying Aces
This post-Nats event attracted a good crowd of silent free flighters.
For Old Time's Sake
Don Howie's Vintage perspective from Oz.
Indoor Scale Gliders
Charlie Newman explains developments in this new class of indoor scale.
Better… Model Care
How best to store and transport models. By John O'Donnell.
Power Trip
Maris Dislers reviews the LP 0.8cc sports diesel.
Tail End Charlie
The thoughts of Chris Ottewell.