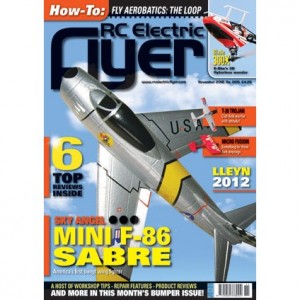 Issue Five of RC Electric Flyer
REGULARS
4 Newsdesk
The latest round up of news and what's been
happening in the world of RC
6 New Products
Our trip around the model shops bringing you the
latest innovations
30 Your Call
Your letters and opinions aired and the best wins a prize
81 Questions & Answers
Need to interpret those build notes –
we clarify the terminolog.
92 Something to read
Latest books worth a read and ideal for reference
95 Next Month
Plenty to get your teeth into next month including the
latest products tested on your behalf!
96 Dates and meetings
Don't miss the events this month plus our club feature
98 Over and Out
Aircraft that are neither R/C nor Free Flight  yet fly
themselves are on the horizon!
REVIEWS
16 Dremel 3000
The original Multitool just got better – full test
22 Blade 300X
Scalpel sharp, the latest flybarless Blade 300x reviewed
32 Sky Unicorn
Something for the winter – a neat little indoor helicopter
from the prolific Silverlit company!
38 T-28 Trojan
Parkzone's Trojan has been with us for years now –
what makes it so popular? Full review!
60 E-Ventus Veracity
Impressive enough to charm a confirmed builder –
a tough call ?
82 Sabre Dance!
From a land down under – Bruce Corfe's review of a
miniature classic EDF Jet.
HOW TO
28 Building from plans
Easier today than it ever was – RCEF's guide to success
36 Flying wings
Tailplanes are for wimps – could their days be numbered?
46 Aerobatics – the loop
The loop is deceptively challenging for such a
simple manoeuvre!
56 Repair broken bolides
What man can build and break can be built again –
Dave Goodenough's guide.
78 Charge batteries
Simple advice on keeping a healthy reserve of power
in stock!
86 Make Decals
The finishing touch for that scale machine, decals can be a
scale ship's greatest asset, or it's Achilles heel.
SHOWTIME
72 Lleyn bring and fly
Every year they come, from far and wide the country over,
here's why.
88 Macrihanish
It's a long way to Tipperary and Macrihanish is pretty
remote too, but there are advantages to that – Scotlands
worst kept secret for aeromodellers!
WORKSHOP
48 Micro Fusion
ARTF or  build it yourself? With winter approaching why
not break out the building board!
66 The Vultan
Quirky – different – the Vultan is a classic piece of
aeromodelling history perfectly suited to electric flight!