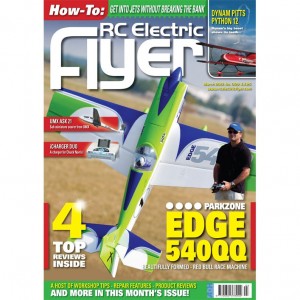 Issue Nine of RC Electric Flyer
REGULARS
4 Newsdesk
The latest round up of news and what's been happening in the world of RC
6 New Products
Our trip around the model shops bringing you the latest innovations
30 Your Call
Your letters and opinions aired
64 Questions & Answers
Helicopter Terminology – what are all those complicated looking bits and pieces called – what are they for?
72 Top Tips
Adding lightness has always been good advice for aeromodellers – top tips on how!
76 Something to read
Latest books worth a read and ideal for reference
79 Next Month
Plenty to get your teeth into next month including the latest products tested on your behalf!
80 Dates and meetings
Don't miss the events this month plus our club feature
82 Over and Out
Aeromodeller's have always been creative home producing type, but the RTF era has seen skills slowly evaporate - why not reverse the tread?
REVIEWS
14 E-Flite's Little Edge 540 reviewed
If you want to win a Red Bull Air Race then you'll need one of these – the Zivko Edge has taken the aerobatic world by storm since its inception – E-Flites version reviewed!
26 Junsi dual ICharger – fully tested
At last, a charger able to meet the needs of electric fl ight at any level and still have capacity in reserve – A charge for Chuck Norris!
36 Dynam's bit Pitts 12 put through its paces
Two wings are surely better than one – well we think so in the case of Dynam's big foam beauty – the Pitts 12 is a blast to fly!
50 Another gem in miniature from UMX
It's a glider – but a glider with a difference – this AS3X equipped jewel like replica from Horizon Hobby has a trick
or two up its sleeve!
MODEL EXAMPLE
32 The finest fighter of its generation and a terrific model
When MiG came up with their fourth generation super fighter, the book was rewritten and even today, the latest variants of this superb machine are a force to be reckoned with. Andrew Gibbs looks at a superb EDF model.
HOW TO
22 Aerobatics
The flick roll is a very impressive manoeuvre when skillfully executed and the skies literally the limit with this one, from knife edge to negative and more, the flick can be flamboyant!
46 Get into Jets
Get into jets on the cheap – maybe you don't need a turbine or a few hundred quids worth of EDF technology to enjoy the feel of jet fl ight – we show you how!
58 Ampower
More hints and tips from supremo Brian Austin who reports from the latest developments in the contest soaring arena.
66 Make your own plane part2
RCEF's mission is to get your creative juices flowing – making your own models is fun and not at all diffi cult and best of all, it's cheap fun!