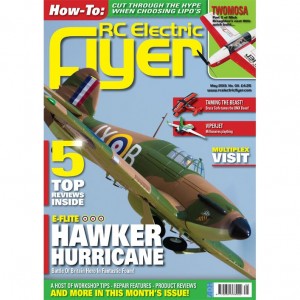 Issue Eleven of RC Electric Flyer
REGULARS
4 Newsdesk
The latest round up of news and what's been happening in the world of RC
6 New Products
Our trip around the model shops bringing you the latest innovations
20 Your Call
Your letters and opinions aired
72 Top Tips
Take the sting out of test fl ights with our check list of handy hints!
74 Questions & Answers
Battery terminology can confound and confuse, we explain.
76 Something to read
Latest books worth a read and ideal for reference
80 Dates and meetings
Don't miss the events this month plus our club feature
82 Over and Out
They say that imitation is the sincerest form of fl attery and that must include aircraft design.
REVIEWS
14 Comet
A splendid replica of De Havilland's long distance racer
34 Airbug
How low can you go? It's defi nitely flying, but not as you know it!
36 Phantom Quadcopter
Richard Cox, gets his hands on the brand new RTF quadcopter from the UAV experts, DJI Innovations
44 Beast
Bruce Corfe tames UMX's aerobatic animal!
52 Hurricane
Efl ite's superb Hurricane might be a the most fantastic foamie yet!
MODEL EXAMPLE
62 Viper
A small fast civilian jet that looks and fl ies like a military fighter.
HOW TO
32 Pulling Canopies
On the pull with Mick Broughton who shows us how to mould a canopy.
40 Aerobatics
Nothing could be simpler than the basic stall turn, or that's the theory anyway!
48 Lipo
Blinded by all those fancy numbers and impressive specifications – cut through the waffl e with Wayne Giles.
60 Ampower
Brian's regular look at the contest soaring scene
FEATURES
28 Multiplex Visit
ADH's Paul Bardoe talked his way past the gate guards at Multiplex's impressive production facility in Germany.
SHOWTIME
66 KAMS Scale Meet – Australia
They do things differently down under – Bruce Corfe reports in from one of Australia's premier scale meetings
WORKSHOP
22 Twomosa Part 2
Part two of Twomosa see's this splendid little self build aerobatic ship fi nished and fl own.