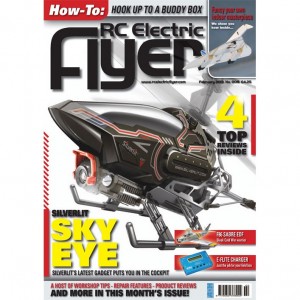 Issue Eight of RC Electric Flyer
REGULARS
4 Newsdesk
The latest round up of news and what's been
happening in the world of RC
6 New Products
Our trip around the model shops bringing you the
latest innovations
14 Your Call
Your letters and opinions aired
20 Top Tips
Adding lightness has always been good advice for
aeromodellers – top tips on how!
22 Questions & Answers
What are all those fiddly bits hanging off
aeroplanes called?
76 Something to read
Latest books worth a read and ideal for reference
79 Next Month
Plenty to get your teeth into next month including the
latest products tested on your behalf!
80 Dates and meetings
Don't miss the events this month plus our club feature
82 Over and Out
Nobody seems to have successfully modelled the VTOL
Harrier over half a century?
REVIEWS
24 F86 Sabre EDF Part 2
E-flites Sabre takes to the skies over Cardigan Bay
34 Max Thrust Ryan
One of the iconic sports machines of the golden era –
Century's Ryan STA reviewed
44 Sky Eye
FPV in your lounge – we review Silverlit's latest
indoor innovation.
50 E-Flite Charger
Just the job for your flight box, E-flites dedicated small LiPo
charger put under the RCEF microscope!
FEATURE
16 35 Years of Flying Toys
Responsible for enthusing so many of today's
aeromodellers, we look back over the decades with Dave
and Janine Rawlins
60 Get the most from your Heli
There's more to helicopters than taking them out of the box
an switching on – set ups are crucial – how to get the best
from your Blades!
HOW TO
32 Undercarts
Most models have them yet so many are weak and feeble –
follow Mick Broughton's guide to a better set of wheels.
40 Aerobatics
Point or Hesitation-Rolls are fun to fly – how to execute the
manoeuvre and its many variations
48 Buddy Box Basics
There must be an easier way!
56 Make your own plane
One the goal of all aeromodellers, Dave Goodenough gets
the building board out for winter.
64 Ampower
More tips and advice from the contest electric scene from
Brian Austin
SHOWTIME
34 Perth Indoor
Columnist Bruce Corfe spends a lot of time in Australia but
pops back once in a while to tell us about the scene
down under