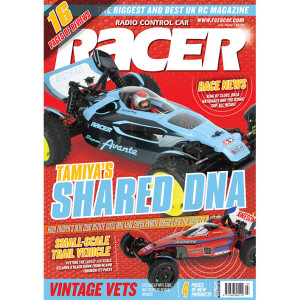 REVIEWS
THE LATEST THRASH TESTS.
22 TAMIYA TD2 ASTUTE 2022 AND TD4
SUPER AVANTE
The TD is a brand-new design out of Tamiya and sees
the majority of the parts and layout shared on both the
Astute 2022 and Super Avante, despite the former being
a 2WD and the latter a 4WD buggy. It's a clever design,
but naturally there are a few shortcomings of what is a
distinctive platform that is very much in the Tamiya style.
46 RC4WD 1:18 GELANDE II BLACK HAWK
The latest model from RC4WD to be received for review is
their 1:18-scale Gelande II RTR with the Black Hawk hard
body set. As we have come to expect from RC4WD, the
Black Hawk model is packed with scale realism, yet still
be highly capable out on the trails.
FEATURES
YOUR INSIGHT INTO THE BEST OF RC CARS,
PEOPLE AND TECHNIQUES.
10 KING BILLY
Billy Fletcher shows the next generation the way with a
double win at Aldershot as the King of Clubs kicks off at
the Demon Raceway as the 2022 season kicks off in style
with record numbers.
16 WINNER TAKES ALL
The first of six rounds of the 2022 Iconic Cup was held
at Mendip RC Raceway in early April that saw a return to
the favoured format of the points being awarded on the
result of the finals after the challenges of a Covid-affected
2021 season.
32 BOOTS IS BEST AT BLACKPOOL
Despite dominating qualifying and his semi-final, Joni
Skidmore had to settle for small pickings when he
suffered a late mechanical in the A final with his Xray
as Elliott Boots walked away with the top prize late on
Sunday afternoon for Sworkz and Reds Racing.
36 AWARD-WINNING THOUGHTS
This month's Iconic RC Vintage Column reflects on some
stars of past Revival events, and those that have won the
prestigious Schumacher Racing Daniel Rowlands Revival
Veteran Award. We check in with all the award winners
from the previous Revivals, to get their thoughts on their
most memorable Revival, which buggies they enjoyed
racing the most, and finally what the Revival means to
them?
40 TEAM ASSOCIATED RULE AT
KIDDERMINSTER
Neil Cragg and Tommy Hall shared the wins as the
first rounds of this year's BRCA 1:10 Off-Road National
Championships began in the Midlands. Whilst Neil took
2WD and Tommy 4WD, Poland's Michal Orlowski kept both
Brits on their toes and was the runner-up for Schumacher
on both days.
52 BEN AND LEE STRIKE EARLY
With respective wins in Frontie and F1, Ben Cosgrove
and Luke Lee got their BRCA National Championship title
campaigns off to the best start as Cotswold hosted the
first of the 2WD on-road rounds.
58 THURSTON AND WALTON DOMINATE AT
BROOKLANDS
The first round of the 2022 BRCA 1:8 Circuit National
Championships kicked off at Brookland and there was
no stopping Alex Thurston in nitro and Michael Walton in
electric.
62 THREADLOCK MISADVENTURE
It might not sound that bad, but when the threadlock
reacted with the plastic on our Tamiya Wild One
Blockhead Motors review, it led to a complete chassis
rebuild and the need to re-create the decals. What
might seem like a small problem was a whole lot more
complicated as you will find out…