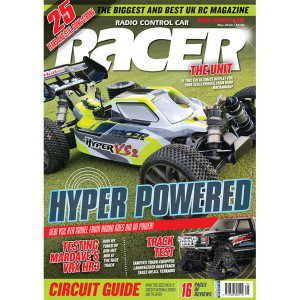 REVIEWS
THE LATEST THRASH TESTS.
12 HOBAO HYPER VS2 NITRO RTR
The new Hyper VS2 from HoBao comes in a choice of
three flavours with an electric version as well as two
nitro options. CML Distribution kindly sent us the most
powerful option of the latter with a 150cc fuel tank and
.30ci engine, wrapped up in almost ready-to-run package.
We thought that although it's not race legal, how good
would it be on the race track…
42 TAMIYA TT-02FT LANDFREEDER
QUADTRACK
Tamiya often come up with some uber-cool machines like
the new Landfreeder Quadtrack based on the TT-02FT
chassis. With tracks replacing the standard wheels and
tyres, the Quadtrack is designed to excel in extreme
conditions. Although we couldn't guarantee deep mud, or
snowy and icy conditions, we were able to keen to see the
mechanics of the design and offer our experienced option
on this 80s pick-up truck.
FEATURES
YOUR INSIGHT INTO THE BEST OF RC CARS,
PEOPLE AND TECHNIQUES.
22 STEVE BRACE OBITUARY
Jackie Delves and Andy Carter pay tribute to Steve Brace
who sadly passed away earlier this year. He was always
smiling, because that was 'Bracey'. A former National
Champion who always liked a laugh…
26 HOT ROD TESTING
After building the Mardave VRX HR3 in the August 2021
issue, we headed to two local clubs at Chesterfield and
Stafford to see how the hot rod fared in competition.
30 ROBINS AND SCHUMACHER CLAIM GT12
BRITISH TITLE
The third and fourth rounds of the BRCA 1:12-Section
Nationals took place at Tamworth with LMP12 and GT12
classes racing over the weekend. After winning the
first two rounds in GT12 at Eastbourne, Daniel Robins
was the man in form and with victory on Saturday and
Sunday, the Schumacher driver wrapped up the National
Championship.
34 25 YEARS OF RACER
The May 2022 issue of Racer means the magazine has
been in publication for 25 years, after launching in early
1997. Designed to look and be different in content from
all the other RC magazines, we exploited our relationships
with team drivers and industry contacts to deliver the
best news, features and reviews, whilst maintaining 100
per cent authenticity. A lot has happened in 25 years…
38 THE UK GARAGE SCENE
Rudd Macnamara is a new British company producing
unique and high-quality RC products such as The Unit.
The scale backdrop offers a detailed garage scene that
provides a great background for photographing your
vehicle and more.
50 CIRCUIT CHATTER
Ahead of the BRCA 1:8 Circuit National Championships
that begin later this month, experienced racer, Michael
Walton previews the 2022 series, looking in detail at the
nitro- and electric-powered classes, what's required to
race and why you should give this RC category a go.