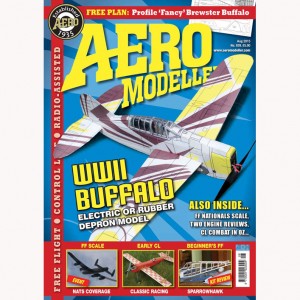 AeroModeller issue 021 (939) Aug 2015 (Published July 16th)
04 Heard at the Hangar Doors
Editorial, News and Views
07 Up and Coming
Calendar of Events for the next months.
08 Off the Shelf
A look at new and innovative products.
10 Scale Matters
Scale at the FF Nationals by Bill Dennis.
14 Kit Review – Sparrowhawk
Maisie and Richard Crossley review this beginner's FF kit from the Vintage Model Co.
18 Engine Review – CS Mini-Tiger
This shrunken classic 0.5cc diesel is assessed by Adrian Duncan.
22 National Aerospace Library
A visit to this free to access treasure trove of aviation books in Farnborough.
26 Voetsak! Yesterday and Today
Steve Betney and Dick Roberts describe the history of the UK's first CL model, and how to race them.
30 Inside Indoor, Part 5
Covering materials and techniques for indoor duration models by Clive King.
32 FREE PLAN – Brewster Buffalo
A Depron and paper covered, electric or rubber powered FF model by Rob Smith.
38 Better… Glider Trimming, Part 15
John O'Donnell turns his attention to the trimming of towline gliders.
42 Go South Old Chap
Richard Evans recalls his CL Combat trips to Oz.
45 AeroPost
Reader's letters by post and email.
46 Indoor Duration International
Hans Staartjes gives a personal account of the 2015 F1D event in Romania.
50 Scale Rubber
In the final part of this series, Andrew Hewitt on FF scale contest flying.
54 Power Trip
Maris Dislers reviews the vintage K&B Infant glow and a more modern PAL replica.
60 Model Rocket Propellants
Stuart Lodge describes the types of rocket motors available.
62 From the Armchair
A look at cowlings and cooling by 'Supercool' Stuart Sherlock.
66 Tail End Charlie
The thoughts of Chris Ottewell.
On the Cover:
The FREE PLAN 'Fancy' Brewster Buffalo with ink-jet printed bank paper covering.