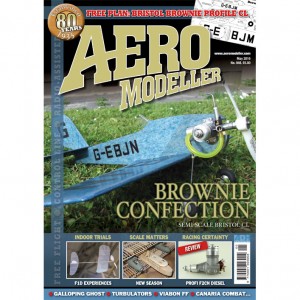 AeroModeller issue 030 (948) May 2016 (Published April 21st)
04 Heard at the Hangar Doors
Editorial, News and Views.
07 Up and Coming
Calendar of Events for the next
months.
08 Off the Shelf
A look at new and innovative products.
10 Power Trip – Profi F2CN
The Profi Team Race 2.5cc diesel is
reviewed by Maris Dislers.
14 Rubber Bowden
John Ashmole has put together and
tested this new small fi eld FF contest.
16 NW Area Indoor
The FF action from the middle of the
Manchester Velodrome is reported by Andrew
Boddington.
18 From the Armchair
'Supercool' Stuart Sherlock continues
the development of his Rivets CL model.
22 The Trials of F1D
Part 1 of Hans Staartjes personal
refl ections on fl ying LW indoor duration.
26 Galloping Ghost
Shaun Garrity explains why Galloping
Ghost proportional RC was so popular in the
late 1960s.
30 Rubber Days at Viabon
This popular French FF duration and
scale contest is covered by Mike Woodhouse.
40 Scale Matters
Bill Dennis previews some of the new
FF scale models we're likely to see during
2016.
45 Owen T2.5 Diesel
Adrian Duncan gives an overview of
this fi ne replica engine from the late David
Owen.
46 Combat Canaria
Combat fl ying in the warmth of the
Canaries during December? – Vernon Hunt
enjoys!
48 Lubricants Part 1
John Bristow leads us through
lubrication for model engines.
54 Cover to Cover
Aviation book reviews by Peter Smart.
56 In Scale Circles
Bernard Seale on setting up a 'Down
the Line' circuit for CL.
57 Aero Post
Readers' letters by post and email.
58 Better… Airfl ow. Part 23
John O'Donnell progresses from
airfoils to turbulators on FF duration models.
62 Build Review – SIG Twister
Dave Cowburn opens the box on this
ideal beginner's aerobatic model.
66 Tail End Charlie
The thoughts of Chris Ottewell.
32 FREE PLAN –
Bristol Brownie
A new design from the Bristol factory? Gareth
Evans shares his delightful all-sheet CL Brownie
design.