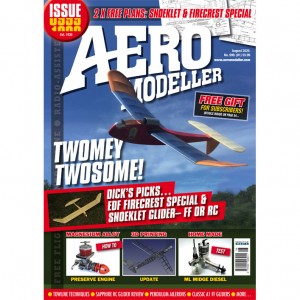 04 HEARD AT THE
HANGAR DOORS
EDITORIAL, NEWS AND VIEWS.
09 UP AND COMING
USUALLY A CALENDAR OF EVENTS…
10 SAPPHIRE REVIEW
MICHAEL KITCHEN BUILDS THIS LARGER THAN
USUAL TRADITIONAL STRUCTURE RC GLIDER
FROM RC-EUROPE.
14 POWER TRIP – ML
MIDGE
MARIS DISLERS TESTS HIS FINESSED HOME-BUILT
DIESEL DESIGNED BY MARK LUBBOCK.
18 3D PRINTING
PART 3: BRIAN SPENCER UPDATES US ON HIS
WORK TO PRODUCE A LIGHTWEIGHT EDF SABRE.
24 BANGLADESH TRIP
CHRIS OTTEWELL TALKS TO MARTIN THOMPSON
ABOUT ENCOURAGING MODEL FLYING IN
BANGLADESH.
26 DICK TWOMEY'S
90TH!
DICK TWOMEY LOOKS BACK AT HIS
AEROMODELLING LIFE.
28 FREE PLAN 1 –
FIRECREST SPECIAL
DEREK KNIGHT UPDATES DICK'S 1949 ICI TROPHY
WINNER FOR EDF.
39 FREE PLAN 2 –
SNOEKLET
DICK'S SMALL FF VERSION OF THE SNOEK GLIDER
IS CONVERTED TO RC BY MARK DEANS.
42 TOWLINE GLIDERS
PART 2: CHRIS EDGE COVERS LAUNCHING AND
WEATHER DEPENDENT TOWING.
46 MAGNESIUM
ENGINES
ADRIAN DUNCAN DESCRIBES THE BEST WAY
TO STORE VINTAGE ENGINES WITH MAGNESIUM
ALLOY COMPONENTS.
52 WALT MOONEY
'COOK-UP'
PETE FARDELL SHARES THE RESULTS OF
THE HPA MASS BUILD.
56 CLASSIC A1
AN UPDATE FROM STUART DARMON ON THE
BURGEONING SMALL CLASSIC GLIDER CLASS.
60 PENDULUM AILERON
PART 2: STEPHEN THORPE GIVES THE DETAILS OF
HIS PENDULUM CONTROL AILERONS
SYSTEM FOR FF.
66 TAIL END CHARLIE
THE THOUGHTS OF CHRIS OTTEWELL.