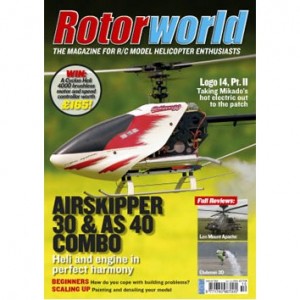 Reviews:
• AIRSKIPPER 30 – The Editor gets to grips with JR's classy new entrylevel
machine
• TDG RAPTOR HEAD MK.II – It's been updated and improved – but will it impress Colin McGinn?
• LOGO 14 PT.II – Russ Deakin wrings out his hot Mikado electric heli
Features:
• AH64/D APACHE – They say this is Len Mount's ultimate creation…
• ZOOM REVISITED – Martin Briggs transforms his Protech electric model into something a little bit special
• DOWNRIGHT DIRTY – Scale weathering and detail techniques to transform your model. Ross Mortimer takes us through the process
• INTERVIEW – We visit new UK company HELI-Leisure to talk to the man behind the project – Neil Key
• STARTING OUT – What the instructions don't tell you about building model helicopters
• COMPETITION – Win a superb Cyclon Heli 4000 motor and 40 amp speed controller worth £165!
Events:
• CLUBMAN 3D – We take a look at the UK's newest 3D competition that's aimed at average club fliers
• SPRING CHARMOUTH – Colin MCGinn visits the annual Dorset bash
Plus:Â News, events diary, and new products