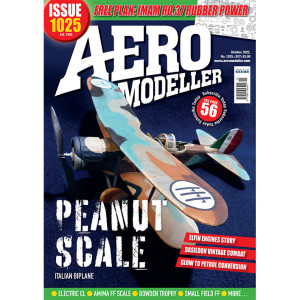 04 HEARD AT THE
HANGAR DOORS
EDITORIAL, NEWS AND VIEWS.
09 UP & COMING
CALENDAR OF EVENTS.
10 – MORRIS'
MINI MOTORS
CONVERTING A FOUR-CYLINDER GLOW TO PETROL
FOR A ¼ SCALE MODEL BE2 REPLICA.
18 – AM/MA SCALE
CHRIS BRAINWOOD REPORTS ON THE FF SCALE AT
LODGE FARM.
22 – IN SCALE CIRCLES
THE LATEST CL SCALE BUILDS BY RONNIE TRIBE
AND CONTRIBUTORS FROM AROUND THE WORLD.
28 FREE PLAN –
PEANUT IMAM RO.37
A 13" SPAN SCALE MODEL OF A 1930'S ITALIAN
BIPLANE BY JOHN COOPER.
38 – VINTAGE COMBAT
DENIS MURPHY AND DON LIDDARD COVER THE
BASILDON ROUND OF THE VINTAGE COMBAT
CALENDAR.
42 – SMALL FIELD
FLYING
IS SMALL FIELD FLYING THE WAY TO ENCOURAGE
MORE PARTICIPATION? STUART MARSDEN WANTS
TO KNOW WHAT BEGINNERS' NEED.
48 – ELFIN ENGINES
PART 1. ADRIAN DUNCAN LOOKS AT THE LIFE OF
FRANK ELLIS AND HIS DEVELOPMENT OF AEROL
AND ELFIN ENGINES.
58 – ELECTRIC CL
MARTIN JACKSON CONVERTS THE BRODAK
CARDINAL FROM GLOW TO ELECTRIC WITH THE
HELP OF 3D PRINTING.
62 – BOWDEN TROPHY
THE DELAYED BOWDEN TROPHY EVENT IS
REPORTED ON BY PAUL HOEY.
66 TAIL END CHARLIE
THE THOUGHTS OF CHRIS OTTEWELL.