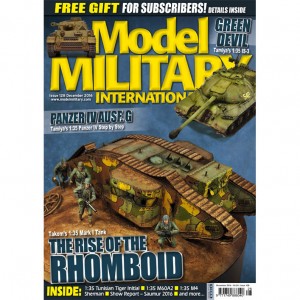 Regulars
p 4 NEWS
What's new in the world of military
modelling.
p 54 BOOKS
Reviews of the latest historical and
modelling publications.
p 56 SMALL SCALE
News and releases in 1:72 scale and
smaller.
p 57 FIGURES
Figure and bust reviews.
p 58 INCOMING
The latest releases of accessories,
tools and materials.
p 60 1:48 SCALE
Luke Pitt explores 1:48 scale military
models, figures and accessories.
p 66 LAST POST
Italeri 1:35 Load Handling System
M1120 HEMTT.
Features
p 6 THINK TANK
Mark I Tank by Dan Moore.
p 10 PREVIEW
Dragon 1:35 Tunisian Tiger.
p 11 PREVIEW
Dragon 1:35 ISU-122.
p 12 THE RISE OF THE RHOMBOID
Takom Mk.I Female by Dan Moore.
p 22 STALIN'S GREEN DEVIL
Tamiya 1:35 IS-3 by Pawel Rzymski.
p 32 IS-3 CLOSE-UP
by Zack Sex.
p 38 TALES FROM THE CRYPT
Tamiya 1:48 Sd.Kfz.251.
p 42 PANZER BACKDATE
Tamiya 1:35 Panzer IV by Jim Turner.
p 49 PREVIEW
Asuka 1:35 M4 Sherman.
p 50 SHOW REPORT
Saumur 2016 by Pawel Rzymski.