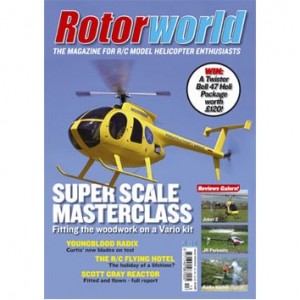 December/January 2006 – Published 2nd December2005
Reviews:
• JOKER 2 – Full review of Minicopter's impressive electric aerobat
• PARKMITE – Yes, it's finally here – JR's debut in the micro helicopter market, that is. And what a cracker they've produced.
• YOUNGBLOOD RADIX BLADES – The great American flier has done it again, this time in the blade department
• SCOTT GRAY REACTOR – Canada's favourite flier comes up with a super idea for making your electrics work more efficiently
Features:
• R/C FLYING HOTEL – Full report on a heli flier's paradise
• AGUSTA 119 – Modifying and fitting Graupner's micro size scale fuse
• SCALE MASTERCLASS, PT.II – Fitting the woodwork into a large fuselage, the Iain Erskine way
• COMPETITION – Win a superb Twister Bell 47 package worth £120!
• LEARNING CURVE – The Editor gets to grips with J Perkin's greatest addition to the micro market
Events:
• OCTOBER CHARMOUTH – The weather was terrible, but it takes a lot to stop these boys…
• ALCESTER FLY-IN – Question: where can you tie floats to your heli and have a slashin' time? At this fly-in, of course!
Plus:Â News, events diary, and new products