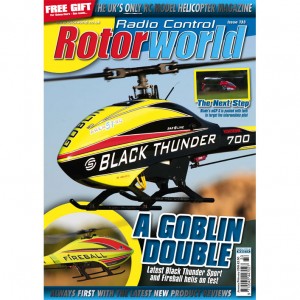 Reviews
10 Blade mCP S
Blade have targeted the new mCP S model for the pilot who is looking
to upgrade from a coaxial heli and as it is equipped with SAFE and AS3X
technology, it should help build confi dence as your skills develop.
24 SAB Goblin Fireball
The new 280-size Goblin Fireball by SAB is a Ready-To-Fly model for pilots
new to the hobby being cheap to repair whilst remaining good fun to
fly with 3D capability.
46 SAB Goblin Black Thunder Sport
The Thunder Sport targets a new area of the market for SAB by offering
pilots a cheaper way of owning a 700-size helicopter. Based on the
proven Black Thunder design, the Sport maintains all the great fl ying
characteristics of a Goblin heli but delivered in a lower cost format.
Features
20 The Seeds Have Been Sown
Tim DiPeri takes on both a role as our roving reporter and offi cial at
the American Helicopter Nationals that took place at the Academy of
Model Aeronautics in Muncie, Indiana where the entry was good and
the future looks rosy.
36 Cambridge UAV Academy
After successfully passing the fi rst stage of his CAA PfCO certifi cate
with the theory exam, it was now time for Shaun Garrity to prepare
his operations manual and in this instalment he looks at the options
available.
42 Osbourn and Hall On Top
Cuffl ey Model Flying Club in Hertfordshire would host the third round
of the F3N national series with perfect weather and top pilots in
attendance.
52 Music to Dahl's Ears
After a great fi nal Flight to Music round, American pilot Kyle Dahl fl ew his
Mikado Logo 700 to Ultimate Class victory at the 2017 Global 3D event in
the Netherlands.
58 Factory Fun Fly
Following on from Aaron Cole's Junior World Championship success
earlier in the year, Aaron was invited to the Align Fun Fly held at the
manufacturer's head offi ce located in Taiwan and took his dad Jamie
along to report on Rotorworld's behalf.
Regulars
04 Word of Mouth
Rotorworld needs you, and you need Rotorworld!
08 Straight Up
The latest news and information from the world of RC model helicopters.
18 Cutting Edge
We show off all the new helis, components and associated products.
34 Through the Lens
Flying inverted in Malta.
63 Coming Up
Check out forthcoming events for the next few weeks.
63 Next Issue
An insight into some of the features planned for issue 134.
64 UK Buyers Guide and Classifi eds
The best model heli shops, products and services.
65 Rotorworld Subscriptions
Get your favourite RC heli mag delivered to your door.