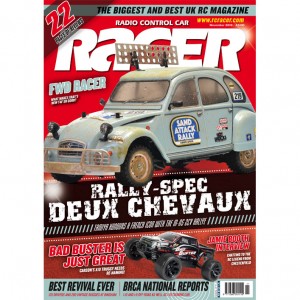 REVIEWS
THE LATEST THRASH TESTS.
24 CARSON X10 BAD BUSTER
We tested the X10 truggy to the limit and more at a local
skatepark. Equipped with a 4WD transmission, a moulded
chassis and oil-filled shocks, the Bad Buster is supplied
as a ready-To-Run and comes in at under £160, so we had
to find out just how capable the 1:10 truggy was.
34 TAMIYA M-05RA CITROËN 2CV RALLYE
The second Citroën 2CV release from Tamiya after the
Charleston is the Rallye model that as the name suggests,
is the rally-spec with increased ride height as well as
accessories including a sand ladder and dummy lights.
Not only did we build and run the Rallye model but we
also made it look super cool!
52 XRAY T4F
Front-wheel drive is one of the main on-road trends at
the moment and Xray has entered the class with its T4F
based on their current 4WD platform. Built to the usual
high standard we have come to expect of Xray, we hit the
track to see if the new model lives up to the bold claims
that have been made.
FEATURES
14 CHESTERFIELD CHAT
John Weston talks all things RC with the racing legend that
is Jamie Booth. From starting out to his current business
dealings, and everything in between including his greatest
success, you can read all about it on page 14.
42 MTC NATIONALS REACHES THE
MIDWAY POINT
Action RC Southwest and Millais RC Circuit Racers would
host the third and fourth rounds of the inaugural MTC
National series with Andy Travis, Jonny Baker and Mark
Young winning.
46 BINGHAM HOSTS BIGGEST REVIVAL EVER
The challenging weather failed to dampen the spirits of
the 135 drivers and their 280 vintage buggies as the sixth
annual Iconic RC Revival took place at Bingham Model
Raceway that was once again a huge success for all
involved including the nominated charity.
60 CRAGG TAKES CONTROL AT EAST
SHREWSBURY
The BRCA 1:8 Off-Road Nationals headed to a new venue at
East Shrewsbury Buggy Racing Club for round four of the
series as Neil Cragg added his name to the list of winners
in 2019