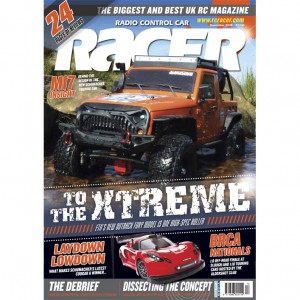 REVIEWS
34 TAMIYA M-08 CONCEPT
The eagerly awaited M-08 Concept is Tamiya's newest
M-Chassis and based around a rear-wheel drive set-up.
The Concept name highlights that this, like the M-07
model is a competition-focussed machine, and so once
Dan Wooster had built our review sample, it was time to
hit the track.
52 FTX OUTBACK FURY XTREME
The Xtreme is the latest model in the Outback Fury line
from FTX and is supplied as a rolling chassis, allowing the
owner to choose their own radio, speed controller, motor
and battery. The chassis comes equipped with a range
of option parts as standard so we chose some quality
electrics and hit the Yorkshire Moors with.
64 SCHUMACHER COUGAR LAYDOWN
The Lowdown is the latest Cougar model in Schumacher's
line-up of competition spec 2WD buggies. As raced by
the likes of Tom Yardy and Ellis Stafford to success at
the British Nationals, our review not only looks at the
package, but also addresses the model's strengths and
suggests the best option parts to ensure you get the very
best from the model at the track.
FEATURES
14 DESIGNER THREADS
Racer headed up to Northampton to visit Schumacher
Racing and find out all the details about their new BRCA
National Championship-winning Mi7 touring car by talking
to Aaron Rose who designed the chassis.
24 BOOTS GOES BACK-TO-BACK BOOTS
Sworkz racer Elliott Boots was able to take victory at the
fifth round of the 2019 BRCA 1:8 Off-Road Nationals as the
series headed to its traditional finale at Slough where he
also successfully defended his championship title.
30 SCHUMACHER DOUBLE UP
Aldershot hosted the final round of this year's 1:10 touring
car BRCA National series with both titles on the line with a
number of drivers battling it out for bragging rights that in
end was settled in favour of James Hart and Olly Jefferies
for Schumacher.
42 THREE CHAMPIONS CROWNED AT R4
The penultimate round of the Iconic Cup took place at West
London where three more championships were decided