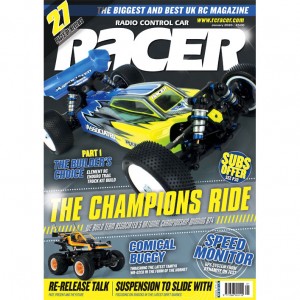 REVIEWS
THE LATEST THRASH TESTS.
24 ELEMENT RC ENDURO TRAIL TRUCK
BUILDER'S KIT
The Builder's Kit is the second version of the Enduro
from Element RC, a relative new brand of parent
company Associated Electrics. Andy Carter jumped at the
opportunity to review the trail truck and kitted it out with
quality electrics in part one of our feature on the model.
52 TAMIYA WR-02CB COMICAL HORNET
The Hornet is the latest in Tamiya's Comical range and
is based on the original model from the 1980s using the
proven WR-02CB off-road chassis. Using the Hornet as its
inspiration, there are some lovely touches to the design
as well as the wheelie bar highlighting just how much fun
this model will be to drive!
64 TEAM ASSOCIATED RC10B74 TEAM
Neil Cragg expertly demonstrated the potential of
Team Associated's latest 4WD buggy so we were very
interested to see just how good the B74 Team went
together and the features of the new design that
replaces the out-going B64.
FEATURES
YOUR INSIGHT INTO THE BEST OF RC CARS,
12 NEW SERIES BEGINS IN STYLE
The brand new Midlands Indoor Carpet Championship
was eagerly anticipated, and round one delivered in style,
setting a high standard for the rest of the series. We report
on the new Telford-based touring car championship.
16 POSTCARD FROM THE WORLDS
A glimpse from behind the scenes of the 2019 IFMAR 1:10
Off-Road World Championships and some facts that you
won't have read about in a normal race report.
34 LMP-12 RETURNS
The winter season has arrived and that means indoor
carpet racing with the BRCA 1:12 National Championships.
Eastbourne hosted round one as the usual favourites shone.
40 CUP FINALE
Round five at Broxtowe would wrap up the 2019 Iconic Cup
with the battles still raging for places on the podium in the
six Tamiya race classes.
46 IT IS ALL ABOUT THE RE-RELEASES
John Westin reflects on the latest re-releases from the
likes of Tamiya, Kyosho and Schumacher, as well as
putting his ideas forward for future projects