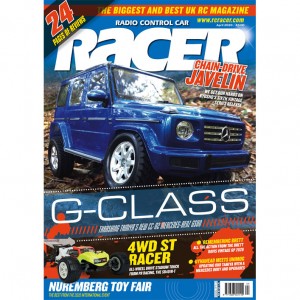 Features
14 NUREMBERG TOY FAIR
We spent three days in Germany for the annual
Spielwarenmesse 2020, searching the RC halls to check
out what the manufacturers and distributors had to offer
for this year including the likes of Traxxas, Tamiya, Carson,
Ripmax and more.
24 REMEMBERING BRETT
The annual Grand Prix takes place early in the year and
pays tribute to the late and great Brett Davis. Hosted by
Dudley Radio Car Club in the West Midlands, not only is
there awesome racing to remember Brett with but it's a
great event that raises lots of money for charity.
38 BACK IN THE DAY
If you have been in the hobby for ten years or more, you
will have seen lots of change on the design and technology
front. We now have the benefit of Lithium battery
technology, 2.4GHz radios, brushless power and many
more, but what were the problems we had to deal with
'back in the day'?
44 WINNING FROM POLE
Jimmy Maddison, Zak Finlay and Elliott Harper would
earn their pole positions in 17.5T blinky, 13.5T blinky and
modified classes respectively, then converted them to wins
in the A finals at round three of the inaugural MICC.
56 CHAMPS CROWNED AT CHESTERFIELD
The latest round of the BRCA 1:12 Nationals was hosted by
Chesterfield Auto Racing Society and the opportunity for
championships to be decided after the third event in the
series had to be cancelled. With Olly Jefferies and Marcus
Askell continuing in their winning ways, they wrapped up
two of the titles on offer!
68 A NEW HEADING
We take our long-term Tamiya Dynahead and mate it with
a Mercedes-Benz Unimog body for a one-off conversion.
Treating the chassis to some upgrades along the way, we
also add some scale treats for a great look and excellent
off-road capability.
REVIEWS
THE LATEST THRASH TESTS.
28 TAMIYA CC-02 MERCEDES-BENZ G500
48 PR RACING SB401R-T
60 KYOSHO JAVELIN