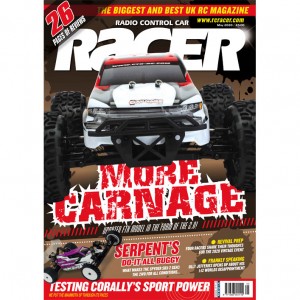 Now out of stock but available digitally here
In this issue:
Reviews
22 SERPENT SPYDER SRX-2 GEN3
Serpent's new Spyder SRX-2 Gen3 not only looks different
to its predecessor, but has proven itself on track by being
faster too. As the chassis is around 85 per cent new, we
couldn't wait to see the new design features in detail
that we cover in this issue, before following this up with
a second instalment on how we got on at the track at a
round of a popular indoor off-road series.
36 CORALLY MAMMOTH SP
For our older readers the Corally name is synonymous
with on-road but in recent years their name has been
seen on a much wider range of products and the
Mammoth SP is one of those. The Sport Power monster
truck model comes as an RTR and is designed to be very
capable off-road without breaking the bank.
48 FTX CARNAGE 2.0
We reviewed the original Carnage in early 2012 that came
with a 27MHz radio so it's not much of a surprise to see
that the 2.0 truck has a number of new updates including
a new body scheme, Etronix radio and 60A speed
controller. We put the model through its paces testing it
out at the park on some soggy grass and slippery mud!
Features
14 THE COUNTDOWN IS ON
Preparations are well underway for this year's Iconic
Revival event that once again takes place at the Bingham
Model Raceway in Nottinghamshire so John Weston caught
up with Dave Beeby, Mike Penfold, Martin Richards and
Simon Smith to see how they are getting on…
46 CHAMPS CROWNED AT BARLEY MOW
The club near Crewe would host the penultimate round of
this year's BRCA 1:12 National Championships and with
four events to count from five, it saw David Spashett wrap
up the sports championship with a round to go whilst Olly
Jefferies would take the modified title despite his absence.
68 OJ OPENS UP
In a frank and very open piece, Olly Jefferies reflects on
his disappointment from missing out on a podium finish at
the recent IFMAR 1:12 World Championships, and how he
is taking positives from the event that he can use in the
future.