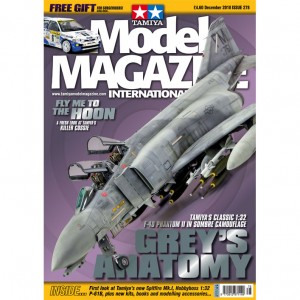 28 GREYS' ANATOMY
Tamiya's classic 1:32 F-4D Phantom II
in sombre camouflage
14 FLY ME TO
THE HOON
A fresh look at
Tamiya's killer Cossie
20 MICRO MIGHTY MAUS!
Zvezda's 1:100 'Maus' superheavy tank
4 NEWS DESK
New kit and model product news
8 SUBARU, YOU'RE SO BLUE!
A Tamiya classic, the 1:24 2001 Burns/Reid Subaru
Impreza WRC
12 FOR THE MOTHERLAND,
HONOUR AND FREEDOM!
Tamiya's new 1:35 M3A1 Scout Car is a western
design, but aimed at the east
24 FIGHTIN' PHIL IN 1:35
Tamiya's all-new M551 Sheridan is the best kit of
this tank yet produced
26 THE MOST WONDERFUL OCEANIC
YACHT EVER BUILT!
Amati's stunning 1:20 Dorade kit, previewed
36 MODELLING ON BORROWED TIME
PT.1
Work begins on Hobbyboss's 1:32 P-61A Black
Widow
44 NEW RELEASES ACCESSORIES
New and recently issued modelling accessories
48 NEW RELEASES KITS
New full model kits reviewed
54 FERDINAND FASCINATION
Building Zvezda's new 1:35 Sd.Kfz.184 kit
60 BOOK REVIEWS
New and recent books related to scale modelling
64 CONTACTS
Where to buy the products used and reviewed in
TMMI
66 THE EDITOR'S PAGE
Tamiya's all-new 1:48 Spitfire Mk.I has arrived!