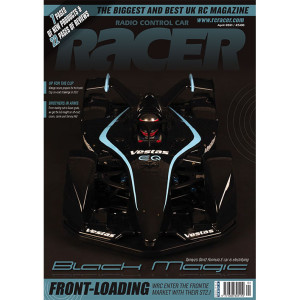 FEATURES
14 A Year of Preparation
With plans for the 2020 Iconic Cup going to waste, there is
no reason why the vintage on-road competitors shouldn't
be ready for this year's series so John Weston caught up
with 12 racers who will compete in 2021 across the six
classes that kicks off next month at Mendip.
32 Hall Brothers
Jamie and Tommy Hall have already made their mark in
1:10 off-road and have their sights set on the 1:8 off-road
scene too. They have enjoyed a rapid rise to fame, but
where did they come from and what can we expect from
them in the future? Head to page 34 to find this out and
much more.
52 Battery Conditioning
The SkyRC's BD250 is a dedicated discharging unit and that
offers a number of benefits to using the function within
a standard charging unit. Not only will it speed up the
discharge process, but the rate is also more akin to when
the battery is being used in a vehicle. Read on to find out
why the BD250 has become a favourite piece of equipment
in race bag.
48 TC Racing in 2021
Adrian Jefferies interviews a number of the leading
touring car racers during the third lockdown in the UK.
They offer their thoughts on the current situation and the
future prospects of a BRCA 1:10 TC National Championship
in 2021, as well as how the lack of a 2020 season has
affected them.
Reviews
THE LATEST THRASH TESTS.
24 Tamiya TC-01 Formula E Gen2
The TC-01 is a brand new chassis from Tamiya that was
launched in style with the Gen2 version of the Formula E
machine that was revealed in March 2018 at the Geneva
Motor Show. Tamiya's take on the body, as you would
expect is absolutely stunning and we took the time to paint
it to the same high standard. Under the body is the new
modular TC-01 with inboard suspension and a shaft-drive
4WD set-up, and we have a highly-detailed review of the
new platform that is sure to engross you.
40 WRC Racing ST2.1
Based on the WRC brand's 4WD STX.7 touring car model,
the new ST2.1 is a front-wheel drive racer that will
go head-to-head with the competition in the growing
class. Distributed by JC Racing, WRC is a new brand to
the pages of Racer but with assistance from the highly
experienced Mark Burgess, we build the new ST2.1
ahead of an extensive running review once government
guidelines allow.
58 Roc Hobby 1:18 Katana RTR
Not only is the 1:18-scale Katana from Roc Hobby a very
capable machine, but it looks the part with its hard body
that is graced with period-correct lights and functioning
indicators that can easily be mistaken for a static model.
The proven chassis features aluminium rails with multilink
suspension and a Panhard bar that ensures maximum axle
articulation. Whether its intended use is outside or in, the
Katana is a great little performer as we found out.