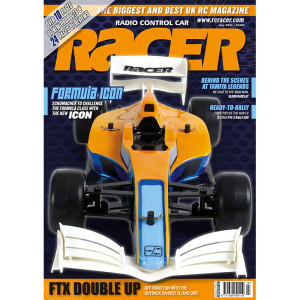 Features
YOUR INSIGHT INTO THE BEST OF RC
CARS, PEOPLE AND TECHNIQUES.
22 Chris Talks TC
As one of the UK's most successful, respected and
experienced on-road racers, Chris Grainger goes into 2021
with the aim of challenging for the BRCA TC National title
with the Reedy-powered Awesomatix at his disposal. We
decided to ask him a range of questions about his career
to date and what he would do if he could make the rules
for the future.
26 Rally Racer
When it comes to 1:10 rally chassis, there really isn't much
on offer, but LC Racing is looking to buck the trend with
their PTG-2 platform that will be available in the UK in
three guises; as a rolling chassis or including a choice of
two bodies. We got our hands on a pre-production sample
for an insight into the dedicated rally platform.
40 Banking on Barclay
Iconic RC's John Weston catches up with the Scottish born
Glenn Barclay, who now resides in Canada, and is the man
behind the Tamiya Legends social media and video channel.
60 Factory Driven
Olly Jefferies will finally get to defend his TC National
Championship when the series returns in 2021. Now behind
the wheel of a factory Xray chassis, he will be the target
for the other modified racers to aim for.
Reviews
THE LATEST THRASH TESTS.
10 FTX DR8
"Big, brutal and fast" is what FTX uses to promote
their DR8 Desert Racer, and we had to agree when Jerry
Ibbotson got his hands on the 1:8-scale buggy. The
combination of 6S compatible Hobbywing speed control
and 4274 2000kv brushless motor means the DR8 has
the potential to hit 60mph, aided by the 4WD drivetrain.
Complementing its performance is a desert buggy-inspired
moulded tubular roll cage frame with printed Lexan panels,
whilst front and rear LED light bars add to the coolness.
You can read all our thoughts on page 10.
30 Schumacher Icon
The Icon is Schumacher's first formula chassis release
that as you would expect leans heavily on their experience
and championship victories in other on-road race classes.
The formula scene continues to grow with 2021 looking
like being the biggest yet with racing on both carpet and
outdoor tracks. Designed for maximum rear traction to
make the Icon as easy to drive as possible, Schumacher
also claims that it "maintains plenty of steering to satisfy
the most demanding drivers." Before we hit a track to put
it through its paces, we had to build up our sample which
we have completed for the July issue.
46 FTX Outback Ranger XC
The Ranger XC is FTX's 1:16-scale Outback model that we
felt was a great size for a multitude of uses indoors and
out. With four colour options and a choice of pick-up and
enclosed models, the latter that we received and you see
here, there is a style and look that should appeal to all. For
our review, we drafted in a newcomer to the hobby to help
offer their opinions on the Outback Ranger XC
and suffice to say, we think that really
enjoyed the experience and will be back
for more very soon.