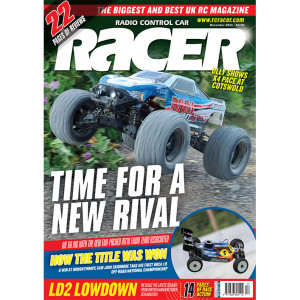 FEATURES
YOUR INSIGHT INTO THE BEST OF RC CARS,
PEOPLE AND TECHNIQUES.
16 GRAINGER SHOWS HIS CLASS
After a season of being on the back foot and chasing
the Modified class benchmark of Olly Jefferies, TC
stalwart Chris Grainger turned back the clocks and took
a deserved win at West London with his Reedy-powered
Awesomatix.
30 X4 ON TOP AT ROUND FOUR
The fourth round of the BRCA 1:10 TC Nationals headed
to Cotswold and the home of the favourite for the
championship in Modified class, Olly Jefferies. Despite
his strong performances earlier in the year, it was the
Capricorn chassis of Kyle Branson who would take the
round win but an A final victory for the Xray driver was
enough to secure the title with the new X4 car.
34 THE ICONIC 2WDS
In this month's column, John Weston looks at the
most prevalent class of 2WD and the period between
1989-1993. Part one sees the focus on the eligible chassis
from Kyosho, Mardave, Schumacher and TOP Models.
REVIEWS
THE LATEST THRASH TESTS.
22 SCHUMACHER COUGAR LD2
The Cougar 2WD buggy has always been popular ever since its
release. The latest evolution is the LD2 that continues on the
development of the original Laydown. With a lower centre of
gravity for improved cornering speed, Schumacher claim that
their versatile platform "has been designed to be easy to drive
and user friendly for the most enjoyable racing experience."
Andy Carter assesses the latest 2WD competition platform…
46 TEAM ASSOCIATED RIVAL MT10
The ready-to-run 1:10-scale monster truck class is a popular one
and sees many manufacturers battling for customers money. The
latest RTR to grace the pages of the magazine is this impressive
brushless, 3S-capable machine from Team Associated that
immediately grabbed our attention with its performance and
strength during testing, assisted by its attractive retail price.
58 TAMIYA CC-02 MERCEDES-BENZ UNIMOG
406 SERIES U900
Tom Stacey gets his hands on the latest edition of the Unimog
and a kit that recreates the 406 Series model
from 1963. Based on the proven
CC-02 ladder frame chassis,
the truck features a durable
polycarbonate body with
separate parts included for
the side mirrors and fuel
tank for a truly scale look.
42 SKIDMORE WINS TITLE IN STYLE
Joni Skidmore and his Mugen had been in stunning
form since the beginning of the 2021 BRCA 1:8 Off-Road
National Championship and when he took another round
win at Brookthorpe, he wrapped up the title with a round
to spare.
54 TRAVIS TAKES GT TC TITLE
Taking his third win from three rounds of the Iconic Cup
in the GT Touring Car class, Stafford saw Andy Travis
achieve a maximum score of 300 points and