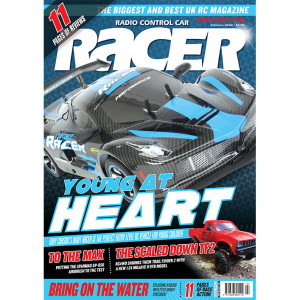 FEATURES
YOUR INSIGHT INTO THE BEST OF RC CARS,
PEOPLE AND TECHNIQUES.
12 WATER-BASED FTX FUN
The FTX Moray 35 is a mini-sized electric race boat and
a great RC model to have if you have easy access to a
suitable pond or lake. As well as the usual features of a
water-cooled motor and Li-Ion battery, the Moray 35 also
has a self-righting function, an "out of range" indicator
and low-battery voltage warning for trouble-free fun out
on the water. Priced at under £45, this is a ideal for those
impulse moments as we found out during testing.
16 SCHUMACHER SNATCH STOCK AT
BEDWORTH
The fifth and final round of the BRCA 1:10 TC Nationals
saw the Stock class go down to the wire and it was
Schumacher's own Andy Murray who claimed the title
ahead of Marcus Askell and Xray.
28 MID-RANGE AND DUAL-ACTION
Targeting the newcomer to the airbrush scene, Sparmax's
GP-850 is a dual-action model with a mid-price point and
lots of potential for anyone who is looking to get into this
aspect of the hobby as Andy Carter explains.
REVIEWS
THE LATEST THRASH TESTS.
22 RC4WD 1:24 TF2 MOJAVE II RTR
The new 1:24-scale aims to offer all the fun of RC4WD's
popular 1:10-sclae Trail Finder 2 but in a smaller package.
With its R6 Mini Transmission, 4WD drivetrain, and 1:24 D44
Scale Axles, the 1:24 TF2 offers performance inside or out
as Joe Brown found out when he put the Mojave II-equipped
truck to the test.
40 CARSON NIGHT RACER
It might be priced at the entry-level sector of the market, but
the Carson Night Racer brand is ably supported by The Hobby
Company and therefore stands out for all the right reasons
with its bright paint scheme, fully ready-to-run package and
2.4GHz radio. Future racers and young children will be drawn
to the 1:10-scale Night Racer so we handed our sample over
to someone at the very bottom of the target age range for
them to bash and crash in a local park.
32 MURRAY IS MINT AT STAFFORD
Racing two classes is always a challenge, and if you are
a leading driver the expectation is even greater. Andy
Murray though,, showed great resilience to TQ and win
both 17.5T Blinky and F1 classes at the fifth round of the
BRCA TC Clubmans series at Stafford as Craig Nutting
wrapped up the Frontie Championship.
36 WALKER WINS WITH A TECHNICALITY
Round four of the Iconic Cup saw Technical Officer, Lance
Walker, take the win in Super Stock TC, but it was Mike
Vale who wrapped up the series title as Neil Simpson
took the FWD Championship and Jason Petch claimed F1
honours with a round to spare.
46 POPULAR TWO-WHEEL TALK
The most popular race category at the Revival is the 2WD
class for vehicles produced between 1989 and 1993. After
the first instalment focused on Kyosho, Mardave, Schumacher
and Top Models, this month we concentrate on machinery
from Team Associated, Tamiya, Team Losi and Traxxas.
50 TOOLS TAKE TWO
In this issue we have the second part of our RC tools
feature and focus on some more RC tools such as
cordless power drivers, knives and reamers, as well as
rotary tools like the famous Dremel.