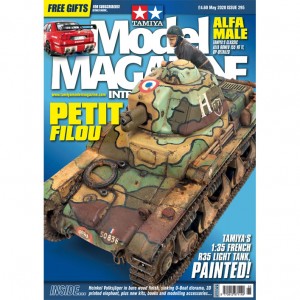 TMMI issue 295 is currently running a little late due to a number of Covid-19 related problems, we expect to mail this issue out in the next few days. Many thanks for your patience.
26 PETIT FILOU
Building and painting
Tamiya's new 1:35 R35
Light Tank
8 ALFA MALE
Tamiya's Alfa Romeo
155 V6 TI racer, with
carbon-fibre effects
16 DROWNING WOLF
The creation of a magnificent
Type VIIC U-boat diorama
4 NEWS DESK
New kit and model product news
24 WILD HORSE POWER
Tamiya's all-new 1:24 2019-spec Ford Mustang
GT4, previewed
40 WOODEN WUNDER
Tamiya's Heinkel
1:48 He162 A-2 Salamander in
its bare 'wooden' state
46 NEW RELEASES ACCESSORIES
New and recently issued modelling accessories
50 ЗА СТАЛИНА!
For Stalin! Tamiya have released a new-tool 1:35
KV-1 Stalin tank. Did you know?
52 NEW RELEASES KITS
New model kits reviewed
54 INTO THE WILD
A beautiful and realistic 1:12 model of a baby
African elephant, 3D printed!
60 BOOK REVIEWS
New and recent books related to scale
modelling
64 CONTACTS
Where to buy the products used and reviewed
in TMMI
66 THE EDITOR'S PAGE
Do you have a favourite modelling inspiration
book?