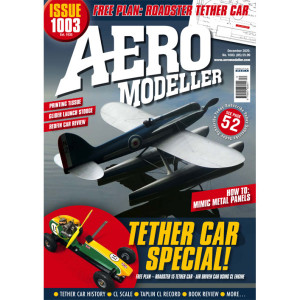 04 HEARD AT THE
HANGAR DOORS
EDITORIAL, NEWS AND VIEWS.
09 UP AND COMING
CALENDAR OF EVENTS.
10 3D PRINTING
PART 5: BRIAN SPENCER UPDATES US ON HIS
LATEST PRINTING PROJECTS AND FLIGHT TESTS.
18 TETHER CAR HISTORY
HUGH BLOWERS ON AEROMODELLER'S ROLE
AND HISTORY OF UK TETHERED CAR RACING.
22 ITALIAN CARS
EARLY ITALIAN TETHER CARS FROM THE
COLLECTION OF SALVATORE ANGELONI.
24 COVER TO COVER
A NEW BOOK ON THE POLISH PZL P.11C FIGHTER
REVIEWED BY CHRIS OTTEWELL.
26 TOWLINE GLIDERS
PART 5: CHRIS EDGE GIVES TIPS FOR SELFLAUNCHING
STOOGES DURING THIS TIME OF
SOCIAL DISTANCING.
32 FREE PLAN –
ROADSTER 15
THE AIR-DRIVEN ROADSTER BY SIMON HUGHES
IS A PERFECT INTRODUCTION TO TETHER CAR
FOR CL FLYERS.
40 SUPERMARINE S5
PART 2: IVAN TAYLOR EXPLAINS HIS FILLER ON
BLACK TISSUE FINISHING TECHNIQUE.
44 PRINTED TISSUE
USING AN INKJET PRINTER ON TISSUE COVERING
IS DESCRIBED BY BOB LEE.
48 IN SCALE CIRCLES
SCALE CL FLYING WINGS AND MORE FROM
RONNIE TRIBE.
54 REVIEW – REDFIN
CHASSIS
JOHN GOODALL BUILDS HIS VANWALL TETHER
CAR AROUND THE NEW REDFIN CHASSIS.
58 TAPLINS TESTED
ADRIAN DUNCAN ASSESSES THE CL SPEED
RECORD SET BY THE TAPLINS IN 1948.
62 MERCURY AND ME
STUART MARSDEN'S PERSONAL MEMORIES OF
MERCURY KITS.
66 TAIL END CHARLIE
THE THOUGHTS OF CHRIS OTTEWELL.