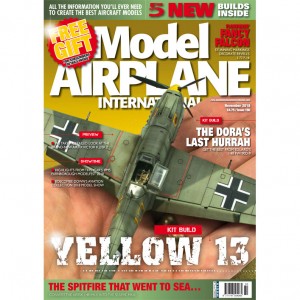 REVIEWS
P64 NEW RELEASES KITS
Which models will you be building over the coming
months?
P68 NEW RELEASES ACCESSORIES
Some brand-new goodies to help you detail your models!
P70 NEW RELEASES DECALS
Decals that you be using to decorate your models…
P74 NEW RELEASES BOOKS
The latest additions to your library shelves.
FEATURES
P10 IT'S SHOWTIME!
Highlights from this year's IPMS Farnborough
Modelfest 2018
P14 ONE, ONE, FOUR, FOUR…
Roy Kinsella builds the stunning TSR.2
P20 ONE, ONE, FOUR, FOUR NEWS
The latest kits for fans of this diminutive scale.
P22 LITTLE AND LARGE(ISH) – PART 1
Two builds, two scales, same aircraft. This month we
tackle the Airfix 1:72 Me Bf109E-3 – step by step.
P32 THE DORA'S LAST HURRAH
Chris McDowell takes a detailed look at Eduard's
stunning, 1:48 Fw190D-9
P42 THE SPITFIRE THAT WENT TO SEA
Jamie Haggo begins his series of Seafire
conversions. This month, the Airfix 1:48 Spitfire
Mk.V takes centre stage…
P52 KIT PREVIEW
The editor takes a look at the Airfix 1:72 Victor K.2
ready for a full build later this year.
P54 FLORENNES' FANCY FALCON
Mike Williams builds the superb Revell 1:72 F-16