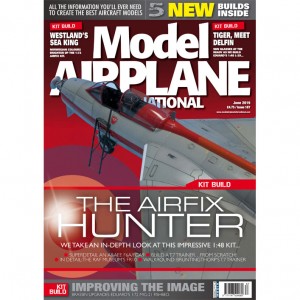 REVIEWS
P10 KIT BOX
Which models will you be building over the
coming months?
P16 TRANSFER LIST
Some of the newest decal sheets that you'll be
using to decorate your models.
P20 TOOL BOX
Workshop additions to make your modelling
easier…
P24 ONE, ONE, FOUR FOUR NEWS
All that's new for fans of this increasingly
popular scale.
FEATURES
P28 WESTLAND'S SEA KING
Mike Williams has fun with white fi nishes, as he
completes Airfi x's latest 1:72 helicopter release.
P34 IN DETAIL: SEA KING
Close-up images provide all the detail that you'll
need to improve your build of the Airfix 1:72 kit.
P38 IMPROVING THE IMAGE…
BRASSIN updates Eduard's already superb 1:72
MiG-21 Fishbed.
P46 TIGER, MEET DELFIN
Eduard's Weekend kit of the ubiquitous L-29,
becomes a tiger-striped showstopper…
P54 HAWKER HUNTER
The editor takes a detailed look at the Airfi x 1:48
kit, adding improvements along the way…
P62 THE EYES OF THE SULTAN
We photograph an Omani photo-reconnaissance
Hunter FR10 is darkest Shropshire!
P64 A HUNTER MADE FOR TWO…
Greg Phillips unveils his stunning, scratchbuilt,
1:48 conversion.
P72 IN DETAIL: HUNTER T7
Bruntingthorpe's classic jet reveals some of its
secrets…
REGULARS
P04 – IN THIS ISSUE
P06 – COMMENT
P08 – NEWSLINE
P78 – EVENTS DIARY
P79 – CONTACTS DETAILS
P81 – NEXT ISSUE
P82 – FINAL THOUGHTS…