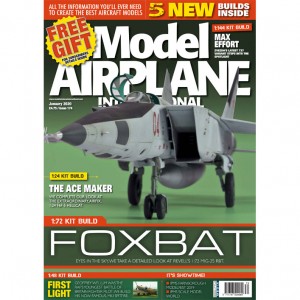 REGULARS
P04 – IN THIS ISSUE
P06 – COMMENT
P08 – NEWSLINE
P78 – EVENTS DIARY
P79 – CONTACT DETAILS
P81 – NEXT ISSUE
P82 – FINAL THOUGHTS…
REVIEWS
P12 KIT BOX
Which models will you be building over the coming
months?
P18 TRANSFER LIST
Choices, choices – which decals will you chose to
build something different?
P22 IN PRINT
New additions to your library's shelves.
FEATURES
P26 MAX 8
Huw Morgan builds Zvezda's latest 1:144 Boeing
737 variant.
P32 FOXBAT
Nigel Poole assesses Revell's recently released
1:72 kit of Mikoyan's famous, Mach 3 icon.
P40 IT'S SHOWTIME!
Glenn Sands visit's the IPMS Farnborough
showcase.
P44 FIRST LIGHT
Frank Crenshaw pays tribute to Geoffrey Wellum,
the RAF's youngest Battle Of Britain fighter pilot, as
he builds his now famous, Mk.I Spitfire.
P54 KIT PREVIEW
Haris Ali takes a look at the Wingnut Wings
Hannover CL.II.
P58 THE ACE MAKER
Spencer Pollard completes his look at the
extraordinary, Airfix 1:24 F6F-5 Hellcat.
P66 DOODLEBUG
John Wilkes builds the Special Hobby 1:32 V-1
Flying Bomb.
P70 IT'S SHOWTIME!
Alan Firbank brings us the highlights from this
year's IPMS Scale Model World competition.