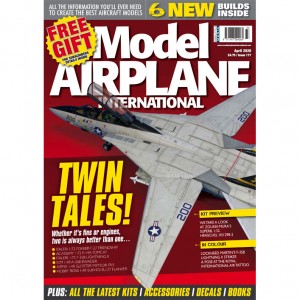 REVIEWS
P12 KIT BOX
Which models will you be building over the coming
months?
P14 THE AFTERMARKET
Add-on details that will improve your next build.
P16 TRANSFER LIST
Choices, choices – which decals will you chose to
build something different?
P20 IN PRINT
What books will inspire you this month?
FEATURES
P22 KIT PREVIEW
Nigel Poole takes a detailed look at Zoukei-Mura's
incredible, 1:32, Henschel Hs129B-2.
P26 AN ENDURING FRIENDSHIP
ESCI's 1:72 Fokker F-27 has appeared on and off
for well-over three decades, now being released by
Italeri. The editor builds this 'new' release, testing
some of Tamiya's new lacquers as part of the project.
P32 GYPSY SWORDSMAN
Highly anticipated, Academy's 1:72 F-14A Tomcat
has arrived, but was it worth the wait? The editor
dives in to bring you an extended appreciation…
P42 FLOODS AND LIGHTNING TOO
Italeri release their 1:72 F-35B Lightning II.
Jonathan Mock builds an early sample.
P46 IN COLOUR
F-35Bs strike a pose at the Royal International Air
Tattoo.
P48 INVADER
Arguably WWII's most attractive twin-engined light
bomber, the A-26 has always been a favourite
amongst modellers. Ivan Jensen Taylor builds ICM's
brand-new new 1:48 kit.
P56 METEOR MAKER 2.0
Huw Morgan builds the latest Airfi x 1:48 release
of this famous post-war RAF jet, this time the
evocative FR.9.
P66 THE ROYAL NAVY'S BLACK CAT
Jamie Haggo weaves his magic around the
enormous Hobby Boss 1:48 Su-27 Flanker – step
by step