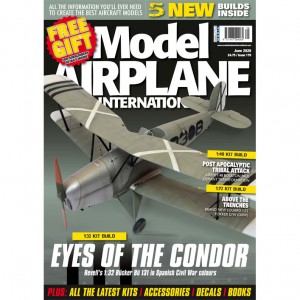 REGULARS
P04 – NEWSLINE
P06 – COMMENT
P63 – CONTACT DETAILS
P65 – NEXT ISSUE
P66 – FINAL THOUGHTS…
REVIEWS
P.8 TRANSFER LIST
Choices, choices – which decals will you chose to
build something different?
P.9 IN PRINT
What books will inspire you this month?
P.10 GULL WING DEFENDER
Brett Green reviews Arma Hobby Expert Set Item
No. 70015 – PZL P.11c
P.44 PENULTIMATE GUSTAV
The Editor checks out the latest in Eduard's 1:48
scale Messerschmitt Bf 109 dynasty – the Bf 109
G-6/AS.
FEATURES
P.12 EYE OF THE CONDOR
Brett Green fi nishes Revell's re-box of ICM's 1:32
scale Bücker Bü 131 in Spanish Civil War markings.
P.24 ABOVE THE TRENCHES
Haris Ali is impressed by Eduard's all-new 1:72
scale Fokker D.VII (OAW).
P.32 POST APOCALYPTIC
TRIBAL ATTACK
Jamie Haggo lets his imagination run wild with a
post-apocalyptic vision based on the Airfi x 1:48
scale Boulton-Paul Defi ant.
P.46 WEEKENDER!
Ivan Jensen Taylor builds Eduard's 1:48 scale
Messerschmitt Bf 109 E-4 Weekend Edition almost
straight from the box.
P.54 PANZER KNACKER PT. 2
In Part Two, Nigel Poole tackles the fuselage and
wings of Zoukei-Mura's 1:32 scale Henschel Hs
129 B-2.