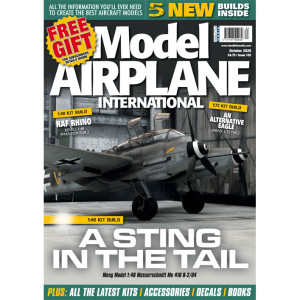 REGULARS
P04 – NEWSLINE
P06 – COMMENT
P65 – NEXT ISSUE
P66 – FINAL THOUGHTS…
REVIEWS
P.8 TRANSFER LIST
Choices, choices – which decals will you chose to
build something different?
P.10 IN PRINT
What books will inspire you this month?
FEATURES
P.12 RAF RHINO
Russell Mardling tackles Revell's re-box of
Hasegawa's 1:48 scale Phantom FGR.2.
P.20 ME 410 IN DETAIL
The Editor takes a close-up look at two preserved
examples of the Me 410.
P.24 A STING IN THE TAIL PART ONE
Brett Green builds Meng's 1:48 scale
Messerschmitt Me 410 B-2/U4 almost straight from
the box.
P.36 AN ALTERNATIVE EAGLE
Huw Morgan takes a fl ight of fancy with his
hypothetical 1970s RAF Middle East Air Force TSR.2
GR.1 deployed to Akrotiri.
P.46 HIND TO THE FORE
Piotr Slominski crews up and improves Zvezda's
new 1:48 scale Mi-24VP Hind.
P.56 RHAPSODY IN BLUE
Jason Brewer improves the Airfi x 1:48 scale Spitfi re
PR.XIX.