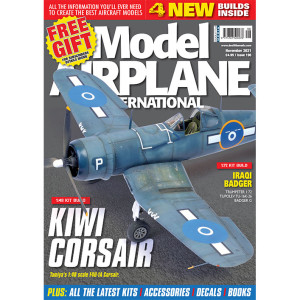 REGULARS
P04 – NEWSLINE
P06 – COMMENT
P65 – NEXT ISSUE
P66 – FINAL THOUGHTS…
REVIEWS
P.8 TRANSFER LIST
Choices, choices – which decals will you chose to
build something different?
P.12 IN PRINT
What books will inspire you this month?
FEATURES
P.14 PREVIEW
Dora Wings 1:48 AT-9 Jeep
P.16 BIPLANE BETWEEN THE WARS
Armory Models Group 1:48 Fairey Flycatcher Late
Production by Piotr Slominski
P.28 INTERVIEW
John Bristow from Deluxe Materials
P.30 TEMPEST-WULF
Pt. 2 – Painting and Finishing
Special Hobby's new 1:48 scale Tempest Mk.II by
Brett Green
P.42 IRAQI BADGER
Alireza Beigi presents his Trumpeter 1:72 Tupolev
Tu-16K-26 Badger G
P.54 KIWI CORSAIR IN
QUARTER INCH SCALE
Brett Green fi nishes Tamiya's 1:48 F4U-1A Corsair
in a heavily weathered Pacific scheme.