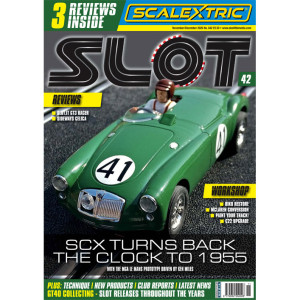 4 NEWS & NEW PRODUCTS
What is happening in the
Slot magazine world. News,
announcements, and interesting slot
gossip. Plus see the new cars that
are in the shops since the last issue
of Slot magazine. We look at brand
new models coming your way
64 SLOT CALENDAR
If you want to race or have a
look around a swapmeet, there is
probably an event nearby you won't
want to miss. Send in your event
details if you want to be included
65 SLOT DIRECTORY
Find the retailers and specialist
services you need for all your slot
racing shopping
66 PASSING SHOT
Show us your work!
10 READER RIDES
This is our regular look at what you
have been up to. Why don't you –
Show us yours!
12 COLLECTING THE GT40
This must be the race car that's been
manufactured as a slot car more
than any other. In part 1 we look at
models produced in period up 1970.
22 NEW GT3 CAR FROM SLOT.IT
Tired of the same old GT3 offerings
like the Porsche 997 or Audi R8?
Well here's something a little
different to shake up the GT3 grid
from Slot.it – a Maserati.
28 REWIND 50 YEARS!
Making up 1/32nd scale Riko
Competition kits was part of youth
and my early love of this hobby. Can
I do it any better all these years on?
34 WHERE HAVE YOU BEEN OUR
OLD FRIEND, SCX?
While the Spanish company reentered
the market during 2019, we
have had to wait some time for new
models, well here are two of their
latest offerings available soon.
40 MORE NSR MCLAREN MP4/4'S
While we brought you a review of
the new Formula 86/89 F1 cars from
NSR a couple of issues back, here
is contributor Mark Hatton's take on
turning them into classic McLarens.
44 PAINT YOUR WAGON?
Well no, actually – paint your track
instead. We show you the whys and
wherefores of doing such a strange
thing.
50 SCALEXTRIC CONVERSION
We take a swap meet bargain, add
modern running gear and plug a big
hole in a collection of Porsche 917's.
54 INFORMATION, INFORMATION,
INFORMATION
Has the internet replaced books as
our main source of research when
building a model? Terry does not
think so, as he thumbs through just
part of his printed collection.
58 THE LIL' CELICA
Sideways brings us a second
Japanese Group 5 in as many
months the Toyota Celica, and it's a
little gem.
62 VIVE LA FRANCE!
With slot events being cancelled all
over the world, the planned race
meeting for the weekend of the
26/27th of September looked to
still be going ahead. We bring you
pictures via Richard Hills from the
practice sessions.