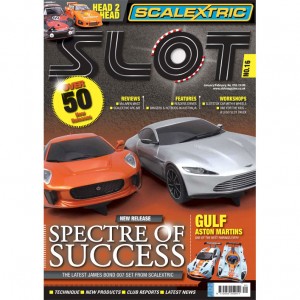 REGULARS
4 NEWS
What is happening in the
SLOT magazine world. News,
announcements, and interesting slot
gossip.
8 PITLANE NEW PRODUCTS
See the new cars that are in the shops
since the last issue of SLOT magazine.
We look at brand new models coming
your way.
40 CLUB FOCUS
One of the best HO scale clubs is
in Worthing, Sussex. See how they
organise the smaller cars and races for
all ages
52 PAST FORWARD
Richard Hills looks back at another
1960s 'Rave from the Grave' from a
small California company but can't fi nd
one to buy.
64 SLOT CALENDAR
If you want to race or have a look
around a Swapmeet, there is probably
an event you won't want to miss. Send
your event details if you want to be
included.
65 SLOT DIRECTORY
Find the retailers and specialist
services you need for all your slot
racing shopping.
66 FINISH LINE
Richard has a blow-out where girls
aren't allowed. We are trying to fi nd out
what he does at weekends…
FEATURES
16 READERS DRIVES
Ron Kiyamura has a slot car that his
mum saw being made and it led to a
Vendetta.
18 HEAD TO HEAD
You can pay a lot of money for handbuilt
slot cars so we see what's on
offer if you have deep pockets. Super
detail – but at a price. Would you
actually race them?
32 SUPER SLOT PICTURES
As you all seemed to like the pictures
from Junichi Kimura in the last issue
he was kind enough to send us a few
more for you to enjoy. You'll never do
this with a phone camera.
36 BANGERS & HOTRODS IN
AUSTRALIA
Sand covered track, caravans, night
racing, bangers & hotrods. Racing with
a difference at Laines Slotway.
REVIEWS
10 MCLAREN M6GT
This must be the rarest McLaren and
was Bruce's personal transport. It was
at Le Mans 11 years later. More Than
Slot have a Limited Edition of this
special car in 3 versions.
12 GULF ASTON MARTINS
Surely one of the best pairings ever
between a sponsor and a racing team.
They have cars for GT3 and LMP at Le
Mans and around the world. Now you
can race them at home thanks to Slot.It
and Scalextric.
28 SCALEXTRIC 007 JAMES BOND
SPECTRE
The story continues – James Bond fi ghts
evil with a special Aston Martin again.
Scalextric turn it into a slot car and have
an exclusive Jaguar supercar to chase
over the obstacles.
46 SCALEXTRIC ARC AIR
One year ago we reviewed the ARC
ONE app and found it useful and easy
to use. Now there is ARC AIR with lots
of new and exciting features so we had
to have a close look. We discovered we
had bad weather, tyre blowouts, and
engine failures, but we could also race
against a Pace Car.
WORKSHOPS
22 BUILDING A SHADOWFAX
CLASSIC KIT
A new manufacturer with a range of detailed
classic Grand Prix cars that have their own
3D printed chassis. Pete Simpson couldn't
resist putting one together and likes the idea
of a Riding Mechanic.
38 SLOTSTOX CAR WITH 6 WHEELS
It worked for Tyrrell so why shouldn't
it work for a Hotrod? 'Steady Steve'
Whitelock copies a real racer that tested
the theory but nobody knows if it is within the rules.
42 VACUUM FORMING AT HOME
All you need is a vacuum cleaner, a
cooker, an airtight box, and a wooden
shape. Sounds easy? Let Steve
Whitelock show you how it is done.
56 ONE FOR THE KIDS – A LEGO SLOT
TRUCK
Our resident Mad Professor goes back
to his childhood in this issue. Yes, it's
Tony Davey playing with building blocks
to amuse the kids.
60 FORMULA 1 BRMS FROM
THE 1960S
Until recently these ultra-slim cars
were almost impossible to built into
successful slot racers. Specialists resin
manufacturers Pre-Wing have explored
the 1960s and have car kits for the 1.5
litre Formula 1 era. Pete Simpson is a
Graham Hill & Jackie Stewart fan and
constructs their BRM cars.