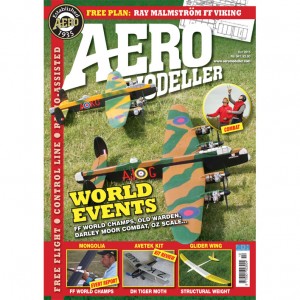 AeroModeller issue 023 (941) Oct 2015 (Published Sept 17th)
04 Heard at the Hangar Doors
Editorial, News and Views
07 Up and Coming
Calendar of Events for the next months.
08 Off the Shelf
A look at new and Innovative products.
10 World FF Championships
Chris Edge and Mike Woodhouse report on the F1A, F1B & F1C action in Mongolia.
16 Kit Review – Avetek Tiger Moth
This intriguing construction FF Tiggie is assessed by Bill Dennis.
19 Dreaming Spires
Laurence Marks on FF Scale at Port Meadow, Oxford.
20 Understanding Adhesives – Part 2
PVAs and Epoxies under John Bristow's scrutiny.
23 Postal Coupe Event
Interested in 60s coupe designs? Bill Dennis shares his enjoyment of this online FF duration contest.
24 Cover to Cover
Richard Crossley reviews new aviation books from Fonthill Media.
26 RDT – Radio DT
Is RDT worth it? David Brawn explains why he made the move.
28 Glider Wing Design – Part 1
For the first of this series, Martyn Pressnell FRAeS examines structural weight.
32 FREE PLAN – Viking
Ray Malmstrӧm's pretty little rubber powered FF model.
38 NSW Scale Champs
FF Scale in Oz by Stan Mauger and Glenn Crouch.
40 The Peter Halman Interview – Part 2
Andrew Boddington concludes his interview with leading CL Speed Flyer and Engine Designer, Peter Halman.
44 Better… Warps, Part 17
John O'Donnell extends his discussion of warps to include covering materials.
48 Web Walk
What's on the Net for aeromodellers? Mike Evatt investigates.
50 Old Warden Scale Weekend
Would there be any flying given the atrocious weather?
54 Darley Moor Combat
Mick Lewis on this Vintage, Oliver and Euro Combat weekend sponsored by Loctite.
56 Inside Indoor, Part 6
Clive King on trimming different indoor class models.
58 From the Armchair
Forays into chuck gliding are recounted by 'Supercool' Stuart Sherlock.
62 Power Trip – Redfin 061 RV Diesel
Another new Redfin reed valve engine is tested by Maris Dislers.
66 Tail End Charlie
The thoughts of Chris Ottewell.