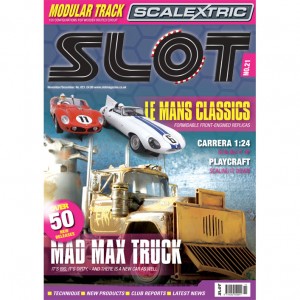 REGULARS
4 NEWS & NEW PRODUCTS
What is happening in the
SLOT magazine world. News,
announcements, and interesting slot
gossip. Plus see the new cars that
are in the shops since the last issue
of SLOT magazine. We look at brand
new models coming your way.
16 PAST FORWARD
We used to learn about slot car
building and racing from books.
Richard Hills goes back to the 1960s
library to see if it is still relevant today.
64 SLOT CALENDAR
If you want to race or have a look
around a Swapmeet, there is probably
an event you won't want to miss. Send
your event details if you want to be
included.
66 FINISH LINE
Richard goes truckin' and fi nds out that
being upright isn't always a good idea.
67 SLOT DIRECTORY
Find the retailers and specialist
services you need for all your slot
racing shopping.
FEATURES
24 SCALING IT DOWN – HO SCALE
When model railways were the biggest
hobby in town some of the fi rst slot
cars were produced to integrate with
train layouts. The birth of HO scale
cars starts here and James Day looks
at the earliest items.
46 LIFE (AND SLOT CARS) IS FULL OF
COMPLICATIONS
All sorts of complicated things have
been tried on slot cars. Slot historian
Don Siegal has documented several
that worked and a lot that didn't, and
takes us through the fi rst part of many
that you may recognise.
56 SCALING IT UP – 1:24 SCALE
Is big really better? Carrera is one
company that thinks so. We thought
we'd take a look at how the sizes
compare with the bigger Carrera cars.
30 LONG BONNETS AND
CLASSIC SHAPES
The end of competitive front-engined
racing cars around 1960 saw some
classic endurance cars built for races
like Le Mans. We take a look at slot
replicas of design icons the Ferrari
TR61 and the Jaguar E2A and their
short but interesting history.
WORKSHOPS
12 BUILDING A MODULAR WOODEN
TRACK
The FLBT (Four Lane Black Top) club
wanted a new track suitable for all scales
and types of event.