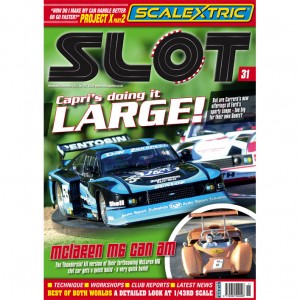 Regulars
4 NEWS & NEW PRODUCTS
What is happening in the
SLOT magazine world. News,
announcements, and interesting slot
gossip. Plus see the new cars that
are in the shops since the last issue
of SLOT magazine. We look at brand
new models coming your way
64 SLOT CALENDAR
If you want to race or have a look
around a Swapmeet, there is probably
an event you won't want to miss.
Send your event details if you want to
be included
65 SLOT DIRECTORY
Find the retailers and specialist
services you need for all your slot
racing shopping
66 PASSING SHOT
What is the difference in racing a slot
car to a real car? Not a lot really they
both need your time in preparation if
you want to succeed
Features
10 BEST OF BOTH WORLDS
Nestling between 1/32nd and HO
scale is 1/43rd Scale – We look
at whats currently available in this
space-saver scale
18 THUNDEROUS McLAREN
The soon to be released McLaren
M6A from Thunderslot has sneaked
out of the factory in kit form, we build
it and get our first look at the Italian
companies third new car release
22 PROJECT X Part 2
So can throwing new components
at our modded Scalextric BTCC MG
Touring car make any difference to
lap times around our club track?
read Part 2 to find out
26 HOME SET TIPS
We get a couple of tips sent to us
from a reader in Australia – Although
based on 1/43rd scale set-ups the
advice could easily be adapted to
other scales
28 VANISHING POINT
We take a look at the Scalextric
Dodge Challenger that became an
icon of the Hollywood Car Chase
Movie and some of the locations used
in the film
34 READERS LAYOUTS
Looking at what other people have
built is not only fun but can also be
inspirational – Here is a a wonderful
step back in time layout from Eddy
Vodden which mixes Carrera,
Scalextric Classic and even a few
rubber track sections
42 PAST FORWARD
Was the Beck and Zimmerman
Banshee even better than the Classic
Manta Ray? Richard Hills looks back
on this piece of 1960's Thingy Racing
History
48 CAPRI'S GO LARGE!
Here we review the latest 1/24th
offerings from Carrera – The fabulous
Group 5 Zakspeed Capri's
54 THE SLOT WORLD OF LLOYD LEWIS
Continuing on our 1/43rd theme we
speak to Mr. Lewis and what 1/43rd
modelers have to do if the car they
want is not available "off the shelf"
60 DIRTY DANCING
While weathered model railway stock
is common place, you can count on
your hands how many slot cars
have been offered "Dirty".
Slotwings look like they are
about to change that situation.