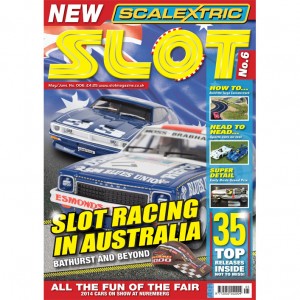 Issue 6 contents:
REGULARS
4 – NEWS – What is happening in the SLOT magazine world. news, announcements, and interesting slot gossip.
8 – PITLANE NEW PRODUCTS – See the new cars that are in the shops since the last issue of SLOT magazine.
16 – HEAD TO HEAD – Having trouble choosing between two or more similar cars ? We let you know the good and bad about each one. We compare 2 fast LMP sports cars for club racers by taking them apart then testing them on track.
44 – PAST FORWARD – OUR SLOT HISTORY PAGES – With slot car racing having more than 60 years of history, take a look back at some of the cars, drivers, and notable events of the past. Rail Racing was the forerunner of slot, how did it work?
41 – CLUB FOCUS – Norfolk has an enviable slot history and the Mussel Bay club in Kings Lynn is keeping up the tradition. Brian Rogers gives us a tour and welcomes visitors.
63 – SLOT DIRECTORY – Find the retailers and specialist services you need for all your slot racing needs.
64 – SLOT CALENDAR – If you want to race or have a look around a Swapmeet, there is probably an event you won't want to miss. Send your event details if you want to be included.
66 – FINISH LINE – Richard Hills shares his thoughts and experiences on a range of slot topics. What has he been up to lately?
FEATURES
20 – SLOT MAGAZINE SURVEY RESULTS – All about you, SLOT magazine, and the items you wish could be in the shops. See the Top 10 most wanted items and then look at the SLOT magazine website for the full results.
26 – SWAPMEETS – TRADE OR BUY? – Does anybody ever swap cars any more? Has the internet changed the way we collect or buy? Are swapmeets the place for real bargains? We have a look from both sides of the table.
30 – ASRRC AUSTRALIA – Collecting Scalextric cars is a serious business 'down under' and there is a very active and enthusiastic club. Dominic Grimes shows us what they do and the special exclusive items for the ASRRC.
32 – AUSTRALIAN RACING SCENE – Big cars on fast tracks, clubs in sheds in the outback, and a Scalextric double World Champion. The competition scene is non-stop in Australia as described by Cathy Berry at Armchair Racer in Sydney.
48 – CARRERA GREEN GT H2 – It's an unusual car, full of technology but hasn't raced yet. Carrera have made a slot version you can drive using a normal slot car motor instead of the hydro-electric power of the real car.
50 – NUREMBERG 2014 – The worlds biggest hobby trade show is the shop window for many slot car manufacturers to show their 2014 plans. What will we see in the shops this year ?
WORKSHOPS
14 – ROLLS ROYCE HOTROD – Converting a plastic kit into a slot car but with a difference, this one has been customised as well. Would Mr Rolls and Mr Royce approve?
36 – TARGA CASCATA part 1 – The star track at Slot Festival 2013, we show you how it was built before you can see it again at Slot Festival this year. Part 1 shows the baseboards and scenic hills.
58 – BUILDING FUN CARS FOR KIDS – The Scalextric Destruction Derby set is perfect for making up your own cars. We look at some ideas using those little building blocks that kids can try for themselves.
RACE REPORTS & CLUB NEWS
12 – RONNIE SPENCER JNR MEMORIAL RACE – The halcyon days of Tottenham Raceway were recreated for a special event. Ronnie Spencer Jnr was one of the biggest stars of the time and many of his compatriots turned out to honour the cars and the memory of Ronnie himself.
22 – EARLY BIRDS CLASSIC GRAND PRIX – If you can build a front-engined Grand Prix car you should be at the Early Birds classic race, it's the annual nostalgia and adrenalin event that gets better every year.
42 – SLOTSTOX MSRA FINALS – They do it differently but with style in the Midlands. The MSRA Finals are a day out for families with some serious trophies at stake. Who gets the gold top for 2014?
60 – SLOT RALLY GB – It's started again. Round 1 of the SRGB Championship at Oxford introduced some rule changes and new cars. Will the same drivers be leading at the end of some spectacular stages?